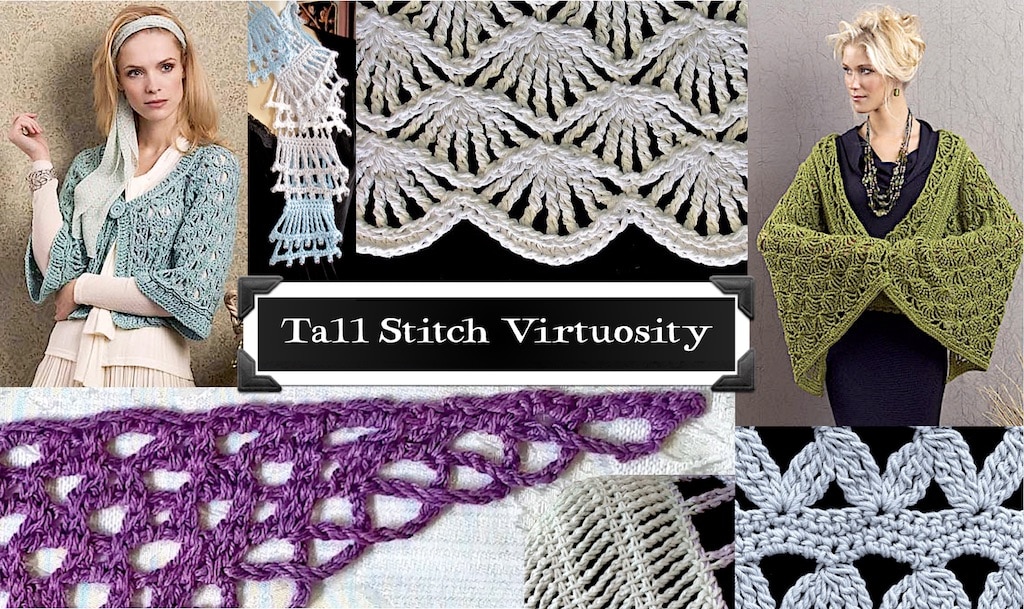 Tall Stitch Virtuosity is a new crochet class for 2020. I've discovered more than I imagined is possible about tall stitches! In fact, the official class graphic above is about six months old and already seems out of date.
Originally scheduled for the July 2020 Chain Link conference (an annual national event of the CGOA), Tall Stitch Virtuosity is now virtual. The traditional in-person conference is postponed until next summer. The virtual version is split into one-hour sessions over three consecutive days.
This is the first resource page I've created for a virtual class. At first I thought a virtual class wouldn't need one. I started these pages back in 2012 to make online links easy to visit for an in-person event. I'm finding that I don't want to load up the class handout (a PDF in this case) with what I think of as miscellany. Also, members might have a chance to visit this page over the three days of the class.
— Vashti Braha
Tall Stitch Virtuosity 2020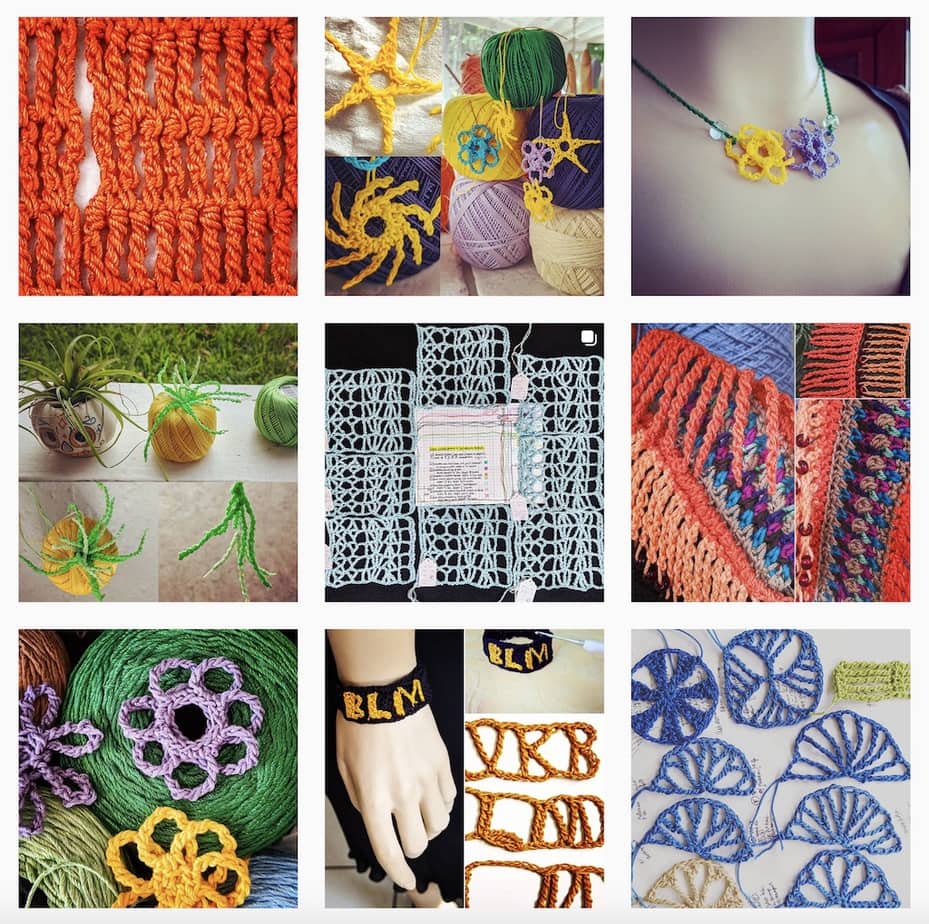 Newsletter Issues & Blog Posts
These are issues of my Crochet Inspirations Newsletter, and blog posts, spanning 2010 to today. Keep in mind that many links in pre-2018 newsletter issues are broken.
Tall Stitch Patterns
Some of my published tall stitch patterns over the years. Half of them are Tunisian crochet. Click an image for more info. Missing: Cats Eye Lariat (in Ravelry) and Twinkle Links.
Tall Stitch Projects & Swatches
Tall Stitches Around the World Web
Tall Crochet Stitch Artistry pinboard (Pinterest)
Bloggers on the lack of tall stitches:

Jenny Guldin: "Most lists of the basic crochet stitches end with the triple crochet. Call it a new technique, or call it breaking the rules: I'm tired of being limited to the height of a triple crochet, and I'm not going to take it anymore! Why isn't there a taller stitch? I've received varying answers from many crocheters, but I've never heard the suggestion "try it". There are two basic points of view I've heard about the subject: It doesn't exist, or, there's no purpose for it. With all due respect, I have two responses: I've made it exist, and there is a purpose."
CrochetSpot's Amy Yarbrough: "These stitches are not very well known today because most modern crochet patterns do not use them. This begs the question, when are they used then? Perhaps the most I have seen these taller stitches used would be in patterns with crochet thread. Such as Irish Crochet Lace, crocheted Antebellum Dolls, and crocheted Doilies."
---
Issue 102: Wild Whys of Y-Stitches
Crochet Inspirations Newsletter sent to 8,600 subscribers on June 13, 2020.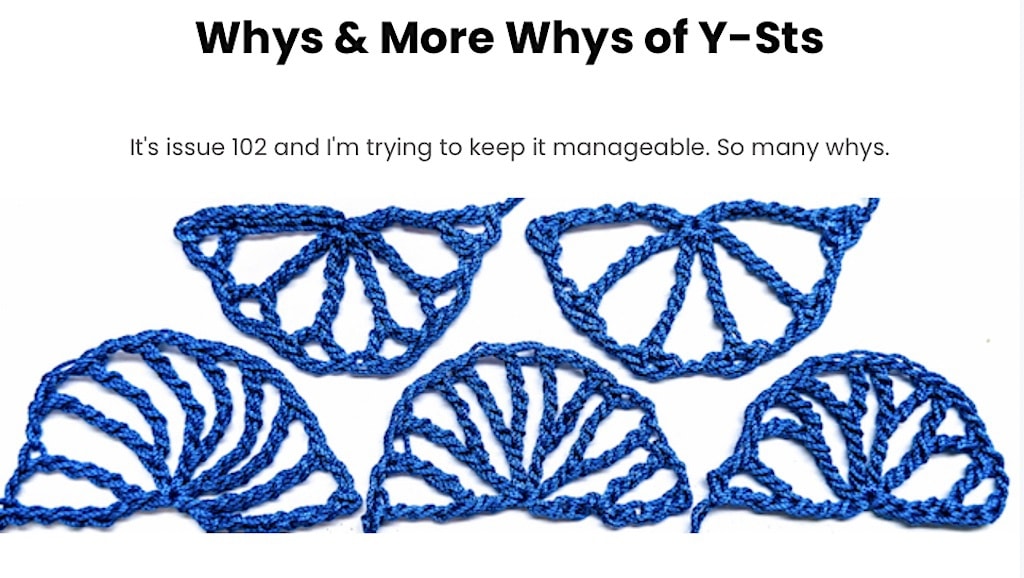 These semi-circles are crocheted of Y-shaped stitches. In each case I started with a quadruple-treble stitch (quad; in the UK and AUS I do believe it's a quint). Yarn over 5x to begin one. After each completed quad I chained 2, then crocheted a shorter stitch into the side of the quad to turn it into a Y-stitch (Y-st).
I'm going to call the shorter stitch a branch that is crocheted into the taller one, or host stitch.
The Y-sts in these semi-circles vary from very deep (farthest left one) to very shallow (upper right). The longest branch, a triple treble (I yarned over 4x to begin it), is crocheted close to the base of its host quad. The shortest branch is a half double (hdc in the US, htr in UK/AUS). I crocheted it up close to the top of the quad.
Don't you love how the lacy look changes just from this simple difference?
I also really love how Y-sts look when they radiate from a center. It's what lured me down a rabbit hole of new delights.
Every stitch you see in this newsletter is my own new stuff.

Branched? "Rune" Stitches?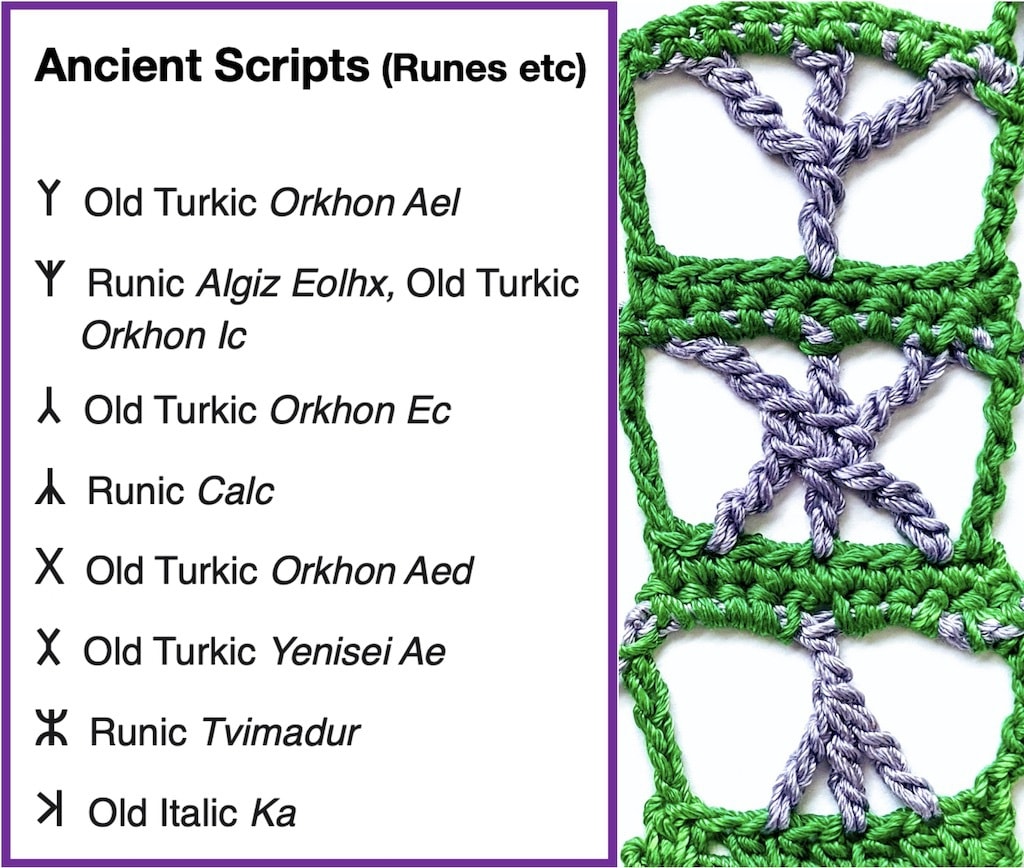 I searched 34 crochet books for these stitches (16 are stitch dictionaries and the rest are guides to crocheting). Of the 34, 14 at least mention X-stitches. Very few include Y's and inverted Y's, or really run with with any of them.
When I think of "Y-stitches" I picture a category of stitches that remind me of runes and ancient symbols! 

The list above is about half of some old letters I'd like to try crocheting with branchy tall stitches. See my swatch of a few modern letters in Instagram. (These crazy B's are for Braha and for Black, as in Black lives matter, and for Because of course they do.)
The first blue wheel above was inspired by ancient wedge-shaped cuneiform strokes. I see the green motifs as being Druidic wheels of seven "trees". In fact, lately I see Y-stitches all over the place in nature!
Key Y-Thinkers
My three favorite sources on these stitches: James Walters, Duplet magazines (Irene Duplet), and Sheruknitting videos (Elena Rugal). It's not a stitch shape. It's a way of thinking. Thank you so much James, Irene, and Elena!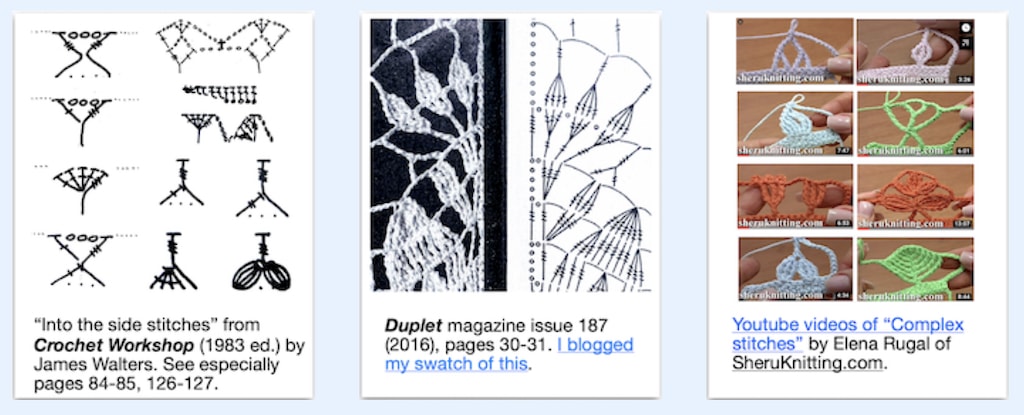 How To?
I need to blog that. I have ideas for how to sort out the yarn overs, and make the most of them for motifs. Until then, I mention Y-stitches with a how-to link in my tall-stitch circles blog post. Also try some Sheruknitting videos. 
Can you spot the Y-sts? And X-sts in the upper-right blue circle? Y's are fabulous for reducing the number of tall stitches in round one AND for suavely doubling every stitch as required in round two.
Using tall stitches for circles is how I got here. I had no idea how practical and problem-solving Y-sts could be for crocheting circles—the taller, the better. They offer creative solutions and pretty options for tall-stitch circle crocheting!
OK One More Y-Why for Today:
Convert Two Rows into One
[This section got its own blog post a few weeks later; the light green swatch referred to is also pictured there.]
Sometimes, two or even three rows of a stitch pattern can be turned into one row, using using taller into-the-side stitches. Here's a two-row shell-and-cluster stitch pattern (upper swatch) turned into one-row one lower swatch). 
You can get more stitches to face the front this way. It also removes a "grid" effect caused by the connections between every stitch across a row. It fits in the "clever substitutions" category which is the topic of newsletter #92.
That grid effect adds structure to the fabric. Removing them adds more drape. So it depends on the yarn and project.
---