I swatched a fancy tall stitch pattern recently. It's actually a section that I isolated from a larger all-over pattern in issue #187 of Duplet magazine (September 2016). Each of its nineteen rows is unique. This is a first-time-puzzling-through swatch, so please ignore the uppermost rows which need re-doing. I worked exclusively from the symbol diagram because I don't know how to read Ukrainian or Russian.
I added turning chains and opted to link the first tall stitch to them. It's easier to see this in the extreme close up further down. Also, the first row of very tall stitches (quadruple trebles) along the bottom is not in the Duplet pattern; I started off by testing very tall foundation stitches.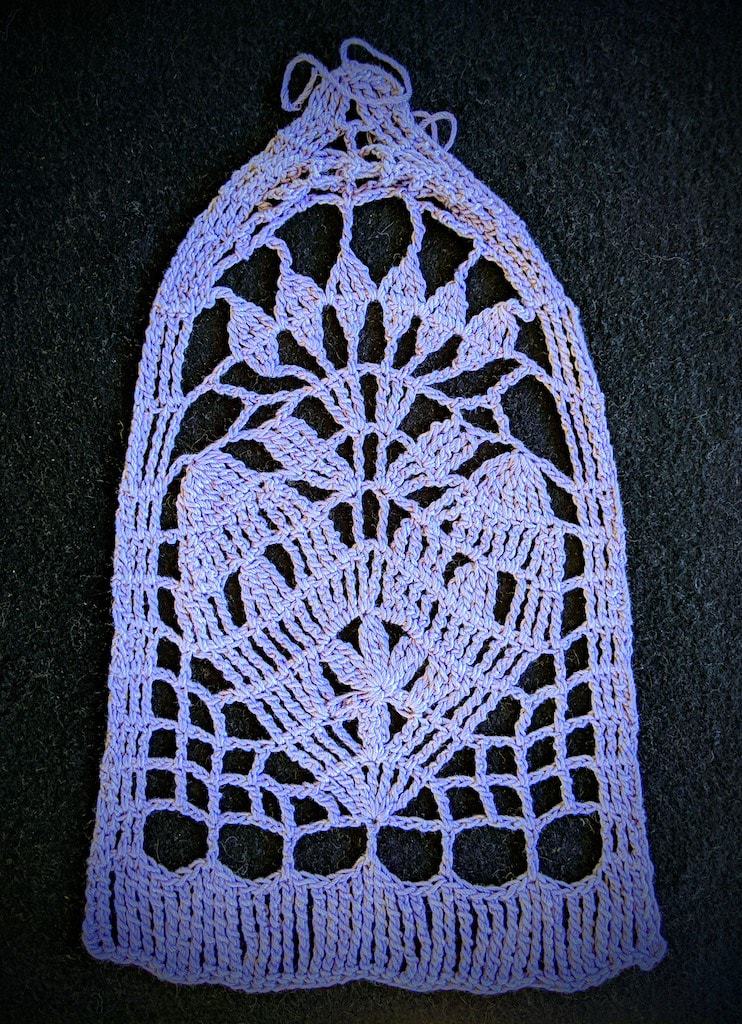 Tall Stitch Pattern Symbols
Something I love about symbols for very tall stitches is that the initial yarn overs required show as small lines crossing the long vertical line of the stitch post. You just count the wee hashes. Even nicer for UK and Australian crocheters, the number of them also tells you the name of the stitch. (American crocheters: just use the name for the next shorter stitch.)
Below is a sampling of Duplet's symbols for the very tall stitches. Notice the four longest vertical lines at the far right edge, with five little hash marks: it means you yarn over five times to begin the stitch. These are quintuple trebles in the UK & AUS, or call them quadruple trebles in the US.
According to the symbols, crochet these four very tall stitches into four tall stitches that have only two hash marks: they are double trebles in UK/AUS or just trebles in US terminology.
An Upside Down Y-Stitch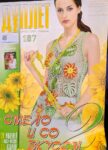 See that symbol in the upper left that looks like an upside-down Y with hash marks ? See how its right leg stands over a sort of horizontal line? That line is some number of chains (4 in my swatch). The other leg skips some stitches that are mostly outside of the picture. This symbol means you begin with five yarn overs, then insert the crochet hook into a chain or the chain space. Work two of the five yarn overs off of your hook, as if to make a treble (UK/AUS dtr). Then, yarn over twice to begin the other leg of the stitch while the 3 unused yarn overs are still waiting on the hook. Work the treble of the other leg into another chain space, and then finish working the remaining 3 yarn overs off of the hook.
A variety of clusters and shell stitches flow into each other to give the crocheting an undulating feeling. It's exciting to see it take shape, and it kept me on my toes. I'd do a few things differently if I swatch it again. Duplet and Zhurnal magazines offer many expressive patterns and innovative ways to use very tall stitches.
As Class Material
This particular tall stitch pattern is mainly research for me. It's too involved for the Tall Stitch Virtuosity class, but of course I'll bring the swatch and magazine with me. When there's time in class we can take a closer look at examples like this.
It's not too involved, however, for…my Pinterest board called Tall Stitch Artistry!