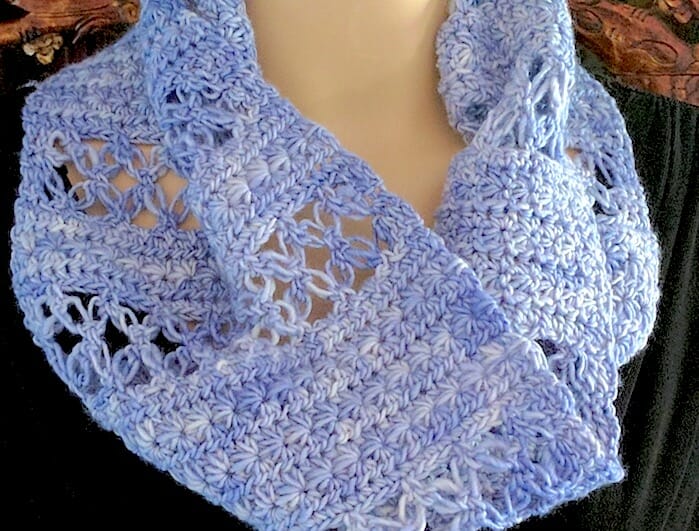 Love Knot+Star Stitch Scarf: New Pattern!
A star stitch crochet scarf with love knots? (About as common as a love knot scarf with star stitches.) So beautiful together! I'm calling it Lovelace Ring Scarf.
UPDATE: Lovelace pattern is now in the Designingvashti Shop and Ravelry.
Why Star Stitches With Love Knots? The Story.
I first swatched it in 2014 for CGOA classes I would be teaching: A Star Stitch for Every Purpose (3 hours) and 21st Century Love Knot Adventures (3 hours). Back then I had to set it aside due to stitch compatibility issues. You might be able to see some of this in this first swatch.
Two years later a visitor to the DesigningVashti Facebook page requested the pattern. Again in deep crochet class prep mode, I had to put it off until after teaching and a series of seven crochet tutorials I'd agreed to do for the Cut Out & Keep site.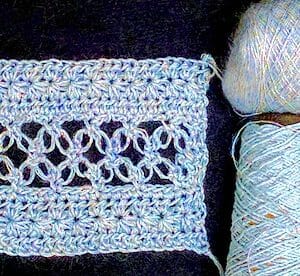 By then the US election had just taken place. I appreciated the sweet, loving patterns crochet and knit designers were spontaneously posting. I returned to the 2014 attempts to blend stars and love knots in one pattern. It was a pleasure to finally polish it up into a fun, versatile, balanced stitch pattern. I hoped the idea of harmonizing and unifying two popular stitches of very different traditions might lift others' spirits.
The basic stitch pattern is available here. I used it to make a 6.5″ square block with DK weight yarn and a G7/4.5 mm hook. A border would probably turn it into a 7″ block.
The Lovelace Ring Scarf design happened next because I needed a self-edging version. It came to me during Thanksgiving. As I lay there contemplating the stitch pattern I'd sent off to Cut Out & Keep, I wondered about giving the basic stitch pattern a selvage (no need to edge it later).
The start and end of the love knot section always looked a bit stringy and unstable to me. I also wanted to vary the texture bands and widen it for a lush, romantic ring scarf.
This is how Lovelace came to be.
Is a Love-Knot-to-Star-Stitch Scarf…Challenging?
Both are Intermediate-level crochet stitches but that doesn't mean they're difficult. I include tips and visual aids in the pattern that have worked in my classes. Most of Lovelace is rows of easy, familiar stitches like single and half double crochets (sc and hdc, or as they say in the UK: dc and htr).
These easy stitches are a backdrop to the fancy stitches. Like peacekeeping diplomats they harmonize relations between the two iconic, culturally powerful, individualistic "diva" stitches.
My experience of crocheting star stitches (stars) and love knots (LK) in the same pattern is that I get some comfort zone rows of simple stitches, then a spicy row or two, then more comfort zone.
Dramatic Differences Between Stars & Love Knots
I researched both of these two unique stitches deeply. I don't recall ever seeing them combined in one stitch pattern. If you have, please let me know in the comments.
Love knots are reversible, star stitches are not. It was an issue with my early swatches.
Love knots are more independent than the usual crochet stitch, and star stitches are the other extreme. This shows in lots of ways. Add Love Knots anywhere like a chain stitch because it's a type of foundation stitch. Each LK is distinct, complete, and recognizable from a distance.
Star stitches require context. The stitch just before it, after it, and often above it determine how recognizable each star is! 
Love knots likely originated as a southern lace, star stitches as a northern thermal fabric. LK were almost always crocheted in very fine cotton and silk threads for delicate and summery edgings, baby bonnets, and petite "opera bags".
Stars have been used most often for making thick, dense coats and blankets in wool. Even when early stars looked like fine spidery lace, wool was the fiber of choice. (That's why my unofficial name for the original swatch is "North and South stitch pattern".)
Interesting Similarities Between Them
Both LK and stars are romantic, iconic, classic/old-fashioned, popular, and beloved.
Both originated in the early to mid-1800's.
Both have long been favored for baby things. (Stars: baby blankets and coats; LK: sacques, bonnets, layette edgings.)
Both can be lacy. When star stitches are lacy, you're looking at pulled loops, just like with LK.
Both start the same odd, non-intuitive way. I did a newsletter issue on it: "Starting a Stitch with a Backtrack".
Crocheting them with two or more strands of yarn held together enhances their distinctive textures.
Hmm. Double or triple the width of Lovelace to make a stunning shrug or wrap!