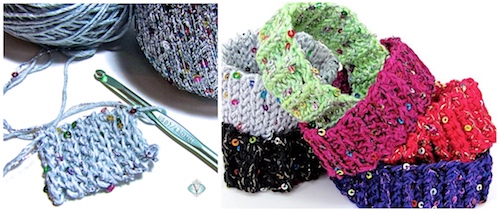 Crocheting *Bling* Bangles, My Cheerful Distraction
I've had several stressful challenges this month. Each evening I curl up with super sparkly yarn, crochet hooks, and simple stitches. I go to bed in a merry mood and drift asleep picturing other stitches or color combinations to try.
As I described in yesterday's post, these slip-on crochet bling bangles are based on the simplest ribbing stitches. The red one is rows of single crochet in the back loop only (outside of the USA it's called a double crochet). The silvery one in progress is rows of slip stitch in the back loop only.
* Twinkly * sequined * ribbing * is very satisfying.
It also makes sense for a slide-on bracelet! Ribbing is nice and stretchy. I had some sequined carry-along metallic threads in my yarn stash. Now is the perfect time to crochet a *bling* strand of Premier Yarns Enchant with a strand of…my Lotus yarn! I chose Lotus for its cheerful colors that can stand up to all the bright bling action.
I also chose Lotus because it's sport weight: once you crochet double-stranded (with two strands of yarn held together), you naturally make thicker stitches. I didn't want super thick stitches for these small crochet bling bangles. The bling string I used is slightly thinner ("fingering weight").
The yarn math: Add 1 sport strand + 1 fingering strand and you get "DK wt," a.k.a. "light worsted." A G-7 (4.5 mm) hook is a good all-purpose size to use for this weight.
Let's Talk About * Sequin * Management *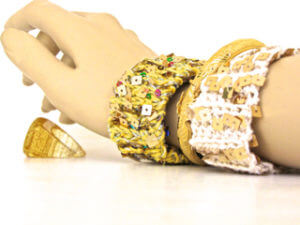 Sometimes, sequins get in the way of smooth, stress-free crocheting. If sequins can catch on a loop while you're trying to pick up crocheting speed, it slows things down.
The secret is pairing a thick enough yarn with a sequined strand to buffer or neutralize the sequins. To me, "thick enough" means it roughly matches the diameter of the sequins. The tiny sequins in the Enchant yarn match the thickness of my Lotus yarn. Lotus gives the stitch loops smooth passage through other loops.
Result: the sequins only pile on more joy. No interruption of the joy.
The Right Kind of * Stretchy *
Enough stretch puts the bangle in crochet * Bling Bangles *—literally. A bracelet earns the right to be called a bangle when it can be slid on and off instead of requiring some kind of clasp.
The bling string (Enchant) has zero elasticity. I expected this (it's typical of carry-along bling strings) but didn't know its strength and durability. To reduce the stress that could be put on the bling strand, I avoided stretchy yarns like wool. DesigningVashti Lotus has no stretch either, so these two yarns are nicely matched: Lotus won't let my crochet project stretch more than the Enchant strand can, so both yarns will share the wear and tear equally.
It's the crochet stitches that provide all the necessary stretchiness of a slip-on bangle! That way I can use whatever yarns I wish. The crochet * bling bangle pattern * includes several kinds of ribbing for beginners and beyond.
*  *  *
2018 update: Want to see my cheerful distraction during the 2017 holidays?