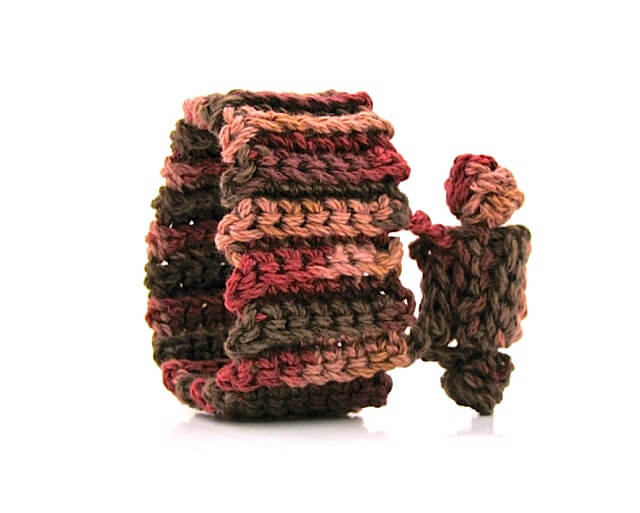 This photo is from a mock art gallery-style photoshoot, 2012 (See the whole set in better resolution here). A slip-on cuff experiment with mock bracelet clasp became the prototype for Bling Bam Bangle, my cheerful holiday distraction in Dec. 2014. 
Crochet Bangle from the Archives
It makes me giggle. "Bam-Bam" began as a test of ribbing stitches for a simple crochet bangle in 2012.
I remember reasoning that if a crochet bracelet is stretchy enough, a clasp is optional. You could just slide it on and off your wrist—i.e., a crochet bangle.
A back-loop slip stitch rib (Bss) version was planned after this back-loop single crochet rib (Bsc) one—minus the "Bam-Bam" part.)
The "Bam-Bam" Part
Remember Pebbles and Bamm Bamm? Back in September 2012, I was preparing to teach a crochet jewelry class at a CGOA conference in Reno NV.
I don't remember where my head was at, but after completing its band, I amused myself by free-forming the fake clasp. It made me think of Bamm Bamm Rubble, the baby boy who hit everything with a stone club in the The Flintstones cartoon.
Then, to test a new light box, I photographed it as if it's an art gallery piece, which amuses me even more!
This is its project page in Ravelry. I'm writing a holiday pattern for the Bam-Bam Crochet Bangle now. It makes me giggle too much to keep it to myself.
Update! the pattern is called Bling Bam Bangle. I blogged about managing all the bling!