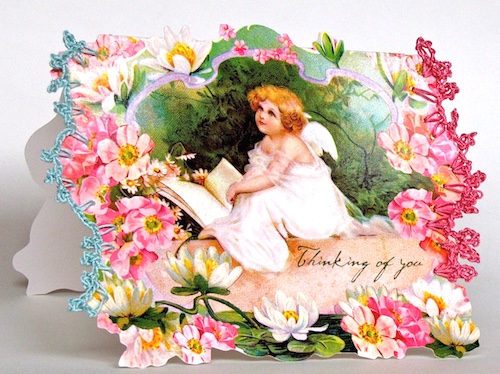 Isn't this greeting card crochet experiment lovely?
I made it about four years ago. The recipient was touched by it. I'm glad I took a photo before I gave it away—I smile whenever I see it.
My goal was to try crocheting a fine irregular edge in a freeform way. (I had already crocheted chunky, evenly-spaced borders into other things, such as with the Venus Flytrap Action Toy, and the Cheerful Chores.) tablecloth
The first step was to punch tiny holes randomly spaced along a portion of the card's irregular edges. Instead of poking holes with a needle, I found a 1/16″ single hole paper punch at my local craft store. I'm glad I did. The holes are clean-edged and look like the card came with them.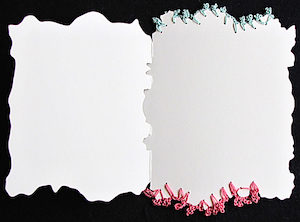 Randomly spaced holes can vary in distance from each other, and from the edge of the card. When you're crocheting into these holes, you just have to chain more to get to a hole that's farther away, and chain fewer to get to a closer hole.
In standard pattern language, this is eyeballing (i.e. freeform), because it's adjustable instead of being a fixed pattern. This automatically puts it in the Intermediate Skill Level category.
Sometimes I slip stitched (sl st) into a new hole, then chained one (ch 1) so that I could sl st again into the same hole.
The picot petals are just long picots. I added extra chains before the sl st or single crochet that closes the picot.
Greeting card crochet is a useful Intermediate Level skill to know for other kinds of crochet too.
I have a Pinterest board with lots of examples: http://www.pinterest.com/vashtibraha/crochet-mixed-media/
I've listed a few other links below to other crocheters' blog posts about greeting card crochet edgings. Each blogger describes a similar step of adjusting the number of chains to accommodate the space between the holes.
http://onesheepishgirl.com/2012/01/adding-a-crochet-edge-to-paper-valentines-frames.html
http://thimbleanna.com/projects/valentinecard.html
http://www.thriftyfun.com/tf95779670.tip.html
http://dutchsister-s.blogspot.com/2011/11/tutorial-recycled-christmas-card-with.html