Foundation Star Stitch!
Because why crochet stars into foundation chains when you could start with a supple starry foundation?
This swatch satisfies two of my wishes for The Starwirbel Way: Shaping and Spiraling Star Stitches class. I've been dreaming of adding a foundation star stitch to the cool foundation stitch category, and I really like how this one came out. It's flexible and stretchy with a balanced structure, like a good foundation stitch.
2018 Update! Here's the step-by-step tutorial for how to crochet it.
I abbreviate it Fstar in keeping with how other crochet foundation stitches tend to be abbreviated in patterns.
Starwirbel could be started with the foundation star, but it's not part of pattern or the class description, so it's an extra feature. (I'll be happy to demonstrate how to do it in class if anyone asks.)
2018 Update! The Starwirbel pattern now includes the Foundation Star and a stitch diagram.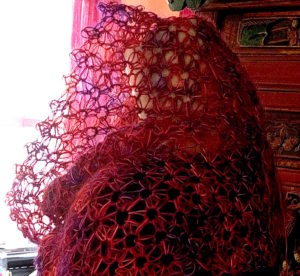 My other wish was to try a new yarn or two for the design. Schulana Kid-Paillettes is the stunning yarn I used a few years ago for Starwirbel. I found no close substitutes for it back then. I'm excited about the one shown here: Alchemy Yarns' Tweedy. The way it's hand dyed gives this foundation star stitch a fiery look! One of the strands that shows up well in the photo is silk raffia. The play of light is unique.
2017 Update! The Alchemy Yarn grew up to become Firewirbel. 
I also found another special yarn that I'm waiting to swatch: Mohair Luxe Paillettes by Lang.
These are just wishes–not critical requirements to be ready to teach this topic, but crossing these off the wish list makes me happy. And now I'm off to tell my friend Marty Miller, goddess of foundation stitches!