I wrote "New Guild Goings-On" for Yarn Market News magazine in 2008. Both the CGOA Design Contest and the growth of local chapters are still important for yarn shop owners to know about in 2020.
This was the January 2008 issue. Beginning with the May 2006 issue I wrote the News from the CGOA column every January and May for three years. Text of my original, updated submission follows.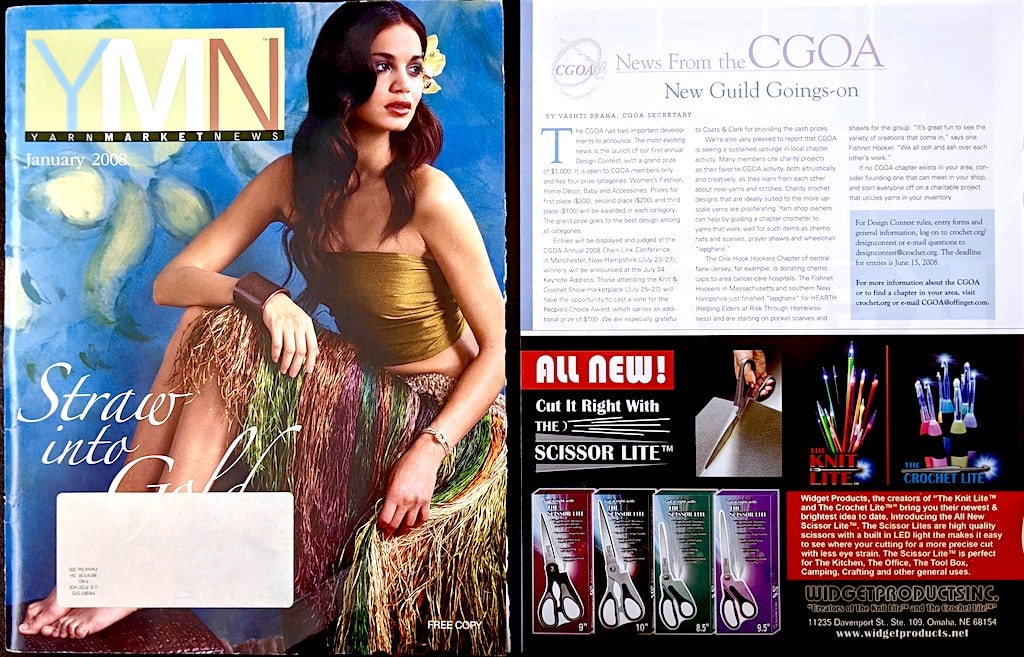 ---
New Guild Happenings
CGOA has two important developments to announce. The most exciting news is the launch of our first annual Design Contest, with a grand prize of $1000. It is open to CGOA members only and the four prize categories are: Women's Fashion, Home Decor, Baby, and Accessories. A First Place ($300), Second Place ($200), and Third Place ($100) prize will be awarded to entries in each category. The Grand Prize will be awarded to the best design among all categories.
Note: Prizes for the CGOA Design Contest have increased every year since 2008! –2020 Vashti
First Annual Design Contest
All entries in the contest will be displayed and judged at the CGOA Annual 2008 Chain Link Conference in Manchester, NH. We'll announce the winners on July 24, 2008 during the Keynote Address. The People's Choice Award carries an additional prize of $100. Attendees are encouraged to cast a vote for their choices on the market floor.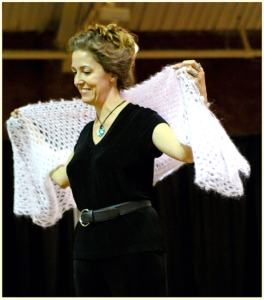 We are especially grateful to Coats & Clark. By generously providing the cash prizes, they are making it possible for us to revive our beloved tradition of juried exhibits. Gwen Blakley Kinsler, founder of CGOA, established them.
The CGOA Design Contest will also serve to powerfully reinforce the guild's mission—to promote future design ideas, to encourage excellence in all facets of crochet, and to uphold standards of art and skill. Viewing a CGOA exhibit has always been an unforgettable experience.
Freeform and thread crochet designs are also encouraged. For contest rules, entry form and general information, visit https://www.crochet.org/page/CLConference (in 2020 the direct link is https://www.crochet.org/page/CL20DesignCompetition.) Email questions to [email protected].
Note: The deadline for 2008 entries was June 15, 2008; in 2020, due to the Coronavirus outbreak, the event has been postponed.
Local CGOA Chapter Upsurge
Even in this age of electronic and mechanical automation, crochet is one of the very few crafts that cannot be machine-made. This special attribute makes CGOA's mission to promote crochet a crucial one. Crochet can continue to exist for only as long as there are hands that know how to create it, stitch by stitch.
As you might imagine, we're also very pleased to report that CGOA is seeing a sustained upsurge in local chapter activity; it's fundamental to the success of our purpose. Broader lifestyle trends in the general public, and flourishing online crochet resources, bolster interest in crochet. Another likely factor in the growth of our local chapters is that non-CGOA members are now welcome to participate in the local chapters.
Chapter Projects for Charities
Many members cite their chapter's charity projects as being the most rewarding. This includes creative reasons: members learn from each other about new yarns and stitches. The One Hook Hookers Chapter of central New Jersey is a good example. Their members are abuzz about donating to area cancer care hospitals for anyone undergoing chemotherapy.
Members of the Fishnet Hookers in Massachusetts and southern New Hampshire just finished lapghan donations for HEARTH (Helping Elders At Risk Through Homelessness). They're now starting on pocket scarves and shawls for them. One member wrote, "It is great fun to see the variety of creations that come in – we all ooh and aah over each other's work."
Retailers who keep current with the charity projects that hook their local crocheters will capture their hearts and create repeat customers.
Another thing to know about charity crocheters: they typically clock a lot of yarn-miles. They need a constant supply of yarn. Consider that it is the widening range of charity projects, from durable afghans for the homeless to butter-soft chemo caps, that teaches many crocheters how to choose the right yarn for the job.
---
For CGOA Design Contest or chapter inquiries in 2020, please contact CGOA's Executive Director Deb Ryan of Celtic Associations. Call 847.647.7500 or email [email protected].
This article is the fourth of six "News From the CGOA" columns I wrote for Yarn Market News. Find links to all six in the Advice for Yarn Shops blog post.