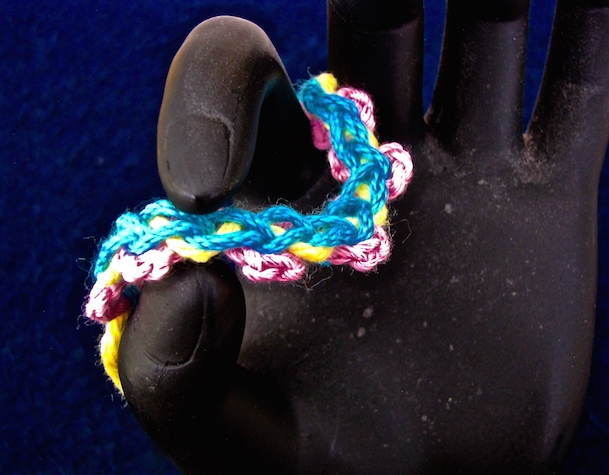 A compound braid of simple crochet stitches. View full size.
I invite you to join me as I try an experiment: what is it like to write an in-depth crochet book, post by post, right here on this blog?
I'm excited to show you what I've come up with! The working title is Vashti's How to Crochet Book. I don't see it as being a typical how-to-crochet guide.
My vision for it is that it goes step by step, more deeply and thoroughly than any other I know of. (I've read a hundred or so.) It's for beginning crocheters and the rest of us. It could even be for aliens. Surely there's an extraterrestrial who's trying to learn how to crochet.
What's the Rush?
Sometimes I feel kind of rushed along when reading about how to crochet basic stitches. I have lots of why questions, including why do I feel rushed? Rushed toward what? taller stitches? Finished projects? Maybe it's just that no book can be big enough for what is really going on with crochet loops.
New to Crocheting?
May this be the place for beginners to get solid answers to how to crochet at each step. Stuck at the beginner level? Surely there's a way to explain things that finally clears up confusion. Here's an example: I've noticed that crochet relies on simple terms like loop or chain that actually have multiple meanings. This can confuse some folks when they're not spelled out. Please let me know in the comments how I can do even better.
If you already own a crochet how-to book, great! Some of them are designed to be sweet portable project companions. Come back here to fill in the gaps, answer your why questions, or just to see if a different point of view enriches your understanding.
Know How to Crochet Already?
This book is for us too. What can be said about the most basic elements of crochet that's worth saying AND hasn't already been said? As it turns out, a lot in my humble opinion. I keep discovering important things about crochet when I take nothing for granted. What I find about the chain stitch alone could fill a small book. (As you probably know, crochet books typically devote about a page to it.)
Can't Know Too Much!
Knowing what's in the usual how to crochet book won't make any of us crochet experts. Crochet is too big to fit in a book; it's even too big for one person to master 100% of it! Another way I think of it is, every crocheter is a beginner at some part of crochet. This is why I see the standard crochet skill levels as more of a spiral than ranked levels.
Why I Want to Blog This
A how to crochet book has not yet been blogged and I can't resist a good experiment.
A blog allows me all the room I need. It's ambitious. To avoid getting overwhelmed, I'm blogging a section at a time. This first section is all about initial fundamentals, which are often taken for granted the most.
I want to write crochet books and not disappear from my online crochet communities while I do so. This way the book gets written publicly. I also want it to be interactive. Please leave comments!
Other Book Titles I've Considered
Secret Lives of the Great Crochet Stitches (because when I gave the Chain Stitch room to speak, it did…)
How to Crochet Like a Geek (because geeks love to get granular instead of skipping the juicy stuff. I found kindred crochet spirits in CGOA's crochet geek seminar last year.)
How to Crochet: Vashti's Missing Manual (So much is missing in the official crochet how-to books.)
Vashti's Deluxe How to Crochet Guide (This is my ultimate way to celebrate my beloved art and hobby.)