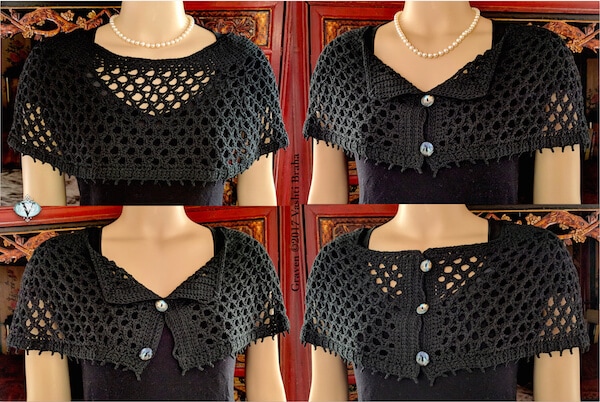 I traveled over the weekend to attend a memorial service for the sudden death of a beloved uncle.
The chapel accommodates 280 people, and 360 attended. Fortunately the weather was ideal (around 80º and sunny) so that the building could be open on two (maybe three? sides. The overflow of people could sit comfortably outside and feel included.
I designed something specifically to wear to this event and had two weeks to make it. That includes all swatching, blocking, and any do-overs.
The Challenge: Accepted.
Wearing crochet to this event meant meeting three strict requirements.
The short, fixed deadline.
I had to rule out my very first idea: to crochet a Chanel-style jacket. Instead I started imagining something that would take two balls of yarn or less.
Result: The finished Graven weighs 108g (slightly over one 256-yd ball).
The second limit was its style and color.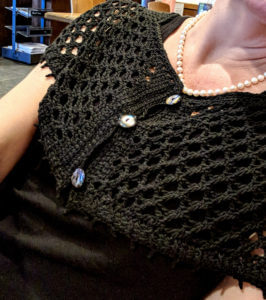 Graven would have to be far more subdued than my default personal style, so I ruled out several initial ideas. It also had to be solid black; a challenge because that's not what I tend to crochet. Sure, I often wear black clothing as a plain first layer that forms a background to a (sometimes crocheted) lighter-colored layer. I struggled at first to picture wearing crochet in solid black on a sunny Florida morning, not for evening, or in a northern office.
Result: I wore Graven all day. It was mostly easy and comfortable to wear, and felt elegant and proper style wise. I did have to adjust it periodically so that the buttons stayed centered. (I think this is because I accidentally increased some rows unevenly.)
It had to work with my dress and high heels.
The dress was a simple sleeveless deep V-front shift made of an inky black pima-modal fabric. Its surface had a woven linen look but it was actually a fine knit. Very comfortable to wear in Florida! It needed a dressy covering for the upper arms and chest though.
Result: Armed with these three requirements, I narrowed down my project to a fairly traditional shoulder covering, crocheted in a fairly tame lace stitch texture, with a polished-looking yarn that's not too thin or thick: a capelet in Tunisian crochet with Lotus. (Our "Black Gleam" color matched the dress! whew.)
Other Requirements I Hoped to Meet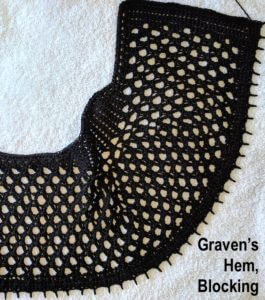 Learn something new about crochet: this was the first time I tried doing a Tunisian "wicker" mesh in short rows with a built-in shaped collar, and a distinctive twisted-loop edging at the hem.
Use yarn already in my stash, ideally my Lotus yarn. I try to feature a different Lotus color each time I design with it. This was the first time I designed with the black.
Try out a trendy style: The trend of using mesh textures in a modern, sort of sporty way inspired the stitch pattern. (The edging later added more of a medieval-ish wrought iron look.)
Give my handmade item the kind of polish that could even make someone wonder if it was a store-bought designer label. (I don't know if this actually happened).
Wearing Crochet to Memorials
I'd do it again. It was a tangible comfort to me.
Although I don't think I caught sight of all 360 people individually, I feel confident in saying that I was the only one wearing crochet, or even a hand knit item.
To me, fabric has a language, and crochet adds a necessary voice to the conversation, at memorials too. Time spent crocheting Graven was also time spent contemplating the uncle I will miss so much. Crochet caught and is holding my feelings for him.