My giant Minecraft-inspired crochet Creeper project gave me some more ideas. Here are a few from my studio "vault."
In the first three photos (top row), the head is partly assembled. On the far left I see part of a hood. For example, a muffler or wide scarf seamed at a right angle to the scarf sides to create a hooded scarf. In the middle photo I see what a Creeper backpack might look like, and in the rightmost photo, a square bottomed bucket-style tote.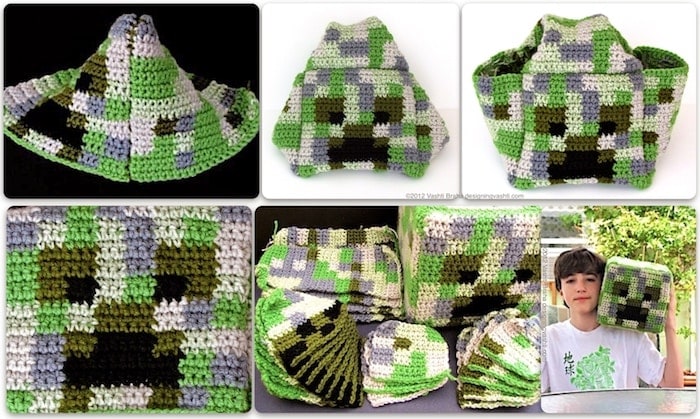 In the bottom left photo, I don't know what YOU see but I see an ipad/laptop sleeve. I threw in the next photo so you could see what the individual pieces look like before seaming. They could be joined to create lots of useful items. Besides the obvious baby blanket, how about patches on jeans or pockets on sweaters? A bathmat might be just the way to startle awake first thing in the morning.
And finally, there's the happy recipient in the last photo. He was 13 here. The completed Creeper head could double as a throw pillow, literally. (He threw it around a bit like he would while playing with a cubic ball in Minecraft.)
I love how big and sturdy it came out. Single crochet stitches are so versatile! (Double crochet in the UK and Australia). As with this Creeper crochet toy, it was the perfect stitch for Gallon Friend, a classroom aid for my son's third grade teacher.