If an image is missing, view it here: http://www.flickr.com/photos/vashtirama/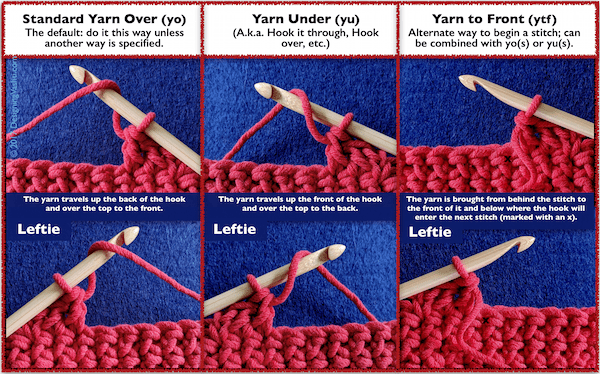 Yesterday's issue 88 of Vashti's Crochet Inspirations Newsletter had only enough room for yarn over highlights. Who knew I'd discover too much material for a newsletter?
Here's the rest of the story.
More on Yarn Over Basics
I described the basics of yarn overs and yarn unders in the issue already, but that only goes so far. Yarn overs are actually kind of tricky—at least when you think about them and watch yourself in slow motion. I see this in classes. Yarning over is one our most ingrained habits. Prefer a video to the close-ups above? I like PlanetJune's.
"Clockwise" Depends on Your Point of View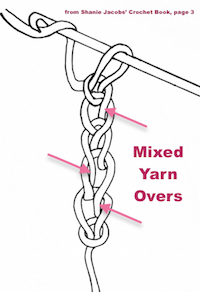 Another thing about yarn overs is the rotational movement. It would be easier to describe them if they were linear (just move your hook along a line from point A to B). Instead, we describe what the hook's motion is, or focus on the yarn's motion: a "yarn under" is also a "hook over".
Some describe the motion as clockwise vs. counter (anti-)clockwise, which adds its own ambiguity. The motion your hook and yarn make for a yarn over is counterclockwise…IF you're looking at it from the shaft end of the hook and IF you're crocheting right-handed. The same motion suddenly appears clockwise if you watch it head on (from the head end of the hook).
Yarn Unders For Simple Stitches
I've swatched several kinds of familiar stitches with yarn unders instead of yarn overs. The stitch didn't always look different, but in every case, it's denser and tighter. I struggled at times to maintain an even gauge and to loosen up, depending on the stitch and yarn.
When I've preferred the feeling of using yarn unders, they seem lean and efficient, like taking a shortcut. It's tempting to use yarn unders when finger crocheting and when completing reverse single crochets and loop/fur stitches.  I'm sure a large project with them uses up less yarn! Usually I prefer yarn overs though. I'm used to rhythm of it and the control they give me over my gauge. Sometimes they feel sort of "luxe" or fancy, compared to yarn unders.
Slip Stitches and Single Crochets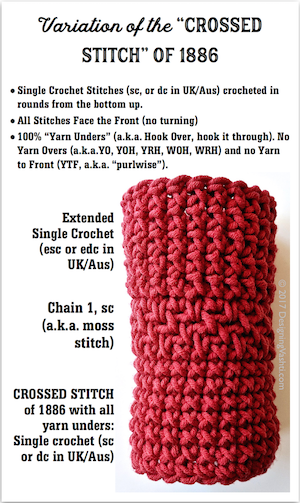 If you want to do the old style slip stitch crochet that is so dense it's waterproof, use yarn unders!
The single crochet stitch (sc, or UK: dc) requires just two yarn overs and is visibly affected by changing just one of them to a yarn under. I expected to find yarn unders in Mark Dittrick's Hard Crochet book on sculpturally stiff sc.
Change the first yarn over and you get sc with crossed or twisted fronts that look very much like my variation pictured here.The 1886 crossed stitch is significant to me because it was in the influential Complete Encyclopedia of Needlework by Thérèse de Dillmont. I've seen the same stitch repeated in other crochet books since. (I don't know if it occurs before 1886.)
Change just the second yarn over and you get what Rebecca Medina's modified sc for tapestry crochet.
Here's another interesting reason to use some yarn unders for your sc. In her Freeform Knitting and Crochet book, Jenny Dowde recommends alternating a yarn over with a yarn under when starting a surface sc. Doing this prevents the raised row of sc from slanting to the left or right.
Two other stitches that show off yarn unders nicely are half doubles (hdc or UK: htr) and love knots. See the issue for more on those. View the hdc swatch diagram from the issue in high resolution.
A newsletter subscriber mentioned to me that the designer Aoibhe Ni uses yarn unders for special texture effects in her lovely Tunisian crochet designs.
How Many Types of Yarn Overs?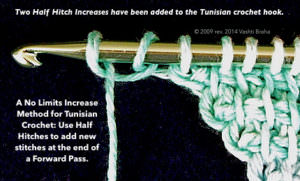 I think of yarn over types in terms of how to get more yarn on the hook for making stitches. So we have the two obvious types: wrap it one way (Yarn Over), or the other way (Yarn Under).
A third way to add loops to the hook is the crossed loop, which is a simple cast-on in knitting. It's also a half hitch in macramé. This loop has a twist in one direction or the other, so there are actually two types of them. I used them for Tunisian crochet to increase stitches along one edge of the Five Peaks Shawl.
This kind of loop was the subject of one of my earliest newsletter issues: "A Very Different Kind of Crochet Stitch". I love Sue Perez' "Forward Loop Chain" blog post about them.
The yarn-to-front (ytf) shows at the top of this page with the two yarn over types even though strictly speaking it isn't one. It's easily confused with the yarn under.
The Yarn Over in other Languages
I found this handy information in the 1989 Vogue Dictionary of Crochet Stitches by Anne Matthews. Here are the non-English pattern equivalents listed for Yarn Over (US) and Yarn Over Hook (UK):
Jeté (French)
Umschlag (German)
Gettato, abbreviated gett (Italian)
Arrollado (Spanish)
One More Thing!
I mentioned Jane Rimmer in the issue because I want to make sure you know about her two-part article for CGOA's Chain Link newsletter: "Yarn Over History and Technique" (Autumn 2014) and "Yarn Overs Part 2: Techniques" (Summer 2015).