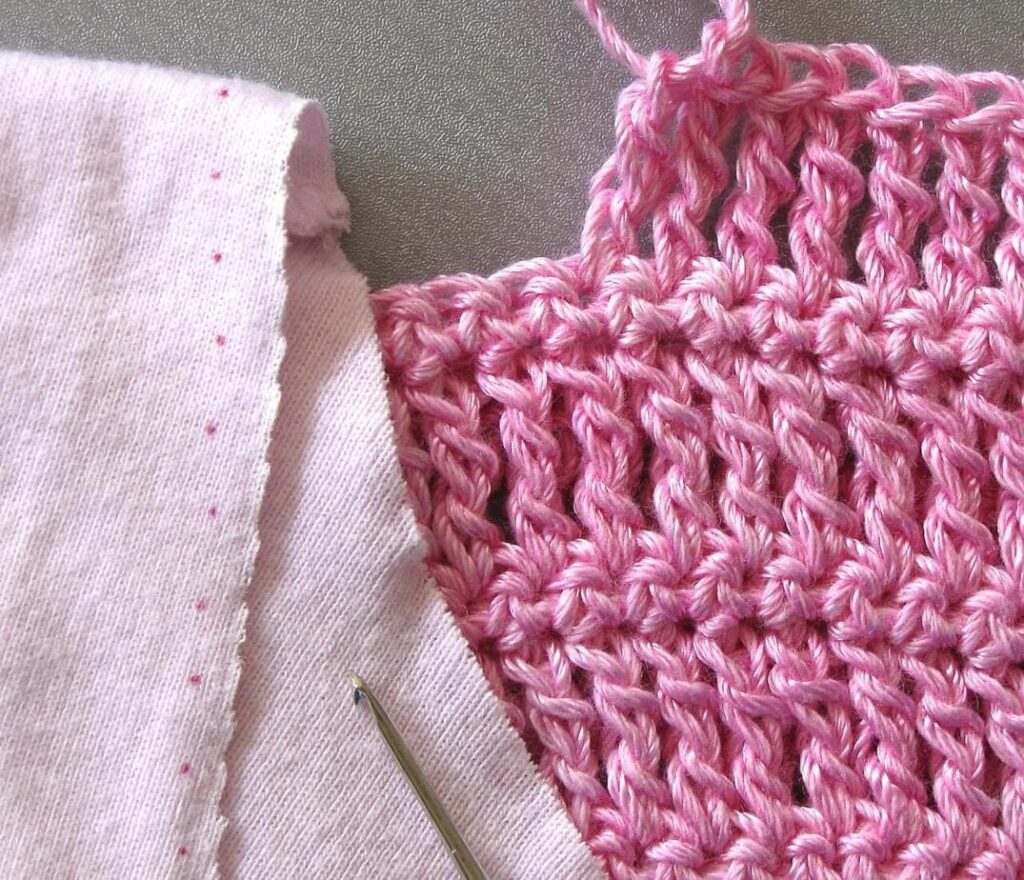 This is my first attempt at customizing a tank top with crochet, so I'm using a $4 scoop-neck tank top from Walmart (White Stag brand). Update: It's coming along well! See this followup post.
It looks dowdy on me straight off the store shelf, so I've drastically cropped it and turned the neckline into a deep V.
The crochet you see adds length along the bottom hem. I'm using standard sport weight yarn and a US/F (3.75 mm) crochet hook. The steel hook shown in the photo above is the largest sharp-headed crochet hook I have. I wish I had one that's slightly bigger for pulling through loops of sport weight yarn.
The Real Reason I'm Doing This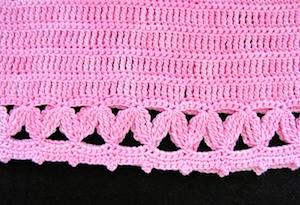 What is it like to crochet DesigningVashti Lotus yarn onto t-shirt fabric? Is sport weight yarn a good match? (If I have to use lace weight yarns, I might as well just crochet the whole darn thing.) What does the texture of this yarn look like with a plain cotton machine knit fabric? 
I have mill ends of this "Pink Sugar" color; the dyeing looks more tonal than solid (not in this photo though). Do I like it? What is it generally like to pair Lotus colors with my tee shirt colors?
Can I use a super sharp crochet hook when customizing a tank top with crochet? I want to be able to start crocheting right onto fabric and get a result I like. Would I enjoy doing it more than sewing along the cut edges first? (I sealed the cut edges with an invisible permanent washable no-fray liquid.)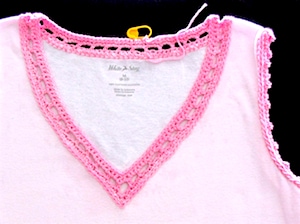 How will it all hold up to wearing, machine washing and drying, and the Florida sun? Will the no-fray liquid add enough strength to the edges?
How will I like wearing it? Will I find I have a preference for customizing a tank top with certain kinds of crochet stitches? What if the crochet adds too much weight to the top?
Lots of what-ifs. Will I want to do something similar with my cashmere sweaters? ::gasp::
I have a few pullovers that I want to convert into cardigans. Ideally, give them a roomier fit while I'm at it. Heck, add beads. Cashmere love is a many splendored thing.