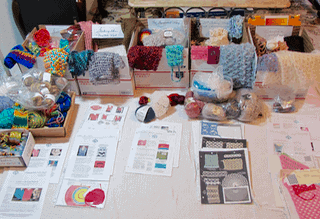 Conference Prep Frenzy: A Two-Week Zone
For Future Vashti's reference: I shifted into conference prep frenzy at a specific time three days ago: end of the night on Monday, June 27th. It's like stepping into the cockpit of an airliner, flicking on all switches and activating 'all systems go'. (Like in the movies, anyway.) It's obvious when it starts.
The next morning I did my teacher's conference prep ritual: put on a pot of coffee, spread a big white sheet on the floor (because it helps me focus), lined up a row of empty boxes, and labeled each with a class topic.
Completing the Teacher's Conference Prep
I rounded up everything to bring: first the completed designs, then the handouts, yarn and other materials for students to use, optional materials like printed patterns, key newsletter issues, visual aids like class swatches etc., topic-related teaching aids like a "blocking demo kit" for the Weightless class, and a "beading demo kit" for the love knots class.
Doesn't it seem like with a pot of fresh coffee, one could just whip through this? The reality is that it does start this way, but my completed designs are spread all over the house and I forget about some. Not only that, each of the five class topics is distinctly different. It takes focus to keep all five in my mind at once.
It's as if the white sheet cordons off an area of the house (and my brain) for 24-36 hours. That's what makes it a ritual, really. I get through the first layer so that I can see the next layer.
After that time I can condense it all into 1 or 2 shipping boxes. That's the quick and easy part.
More Show Booth Conference Prep
Here's what else got done since I blogged 2 days ago:
Wound new Lotus colors in a few 100 gram balls—so that I could label and take photos of them—so that I can add them to the website. (This automatically means I committed to color names for them, too: Carbonite, Lavender Ice, Orange Luxe, and Emerald Deep.)
We build our booth with grid panels. Found out how hundreds of them will get to the show floor! Thanks to Linda Dean whom I can't wait to finally see again.
Placed final order for crochet hooks I'll need for the booth and classes.
Finalized arrangements and logistics for how everything and everybody gets there and gets back!
Formatted several crochet patterns for kits, classes, etc (printed):

a fun new one-ball pattern for Lotus that Doris designed for the booth (a printed crochet pattern). More on that later.
My Mesmer patterns (scarf, stole, sized vest variations on a steeky theme and with double-ended hook option) as one printed pattern set for the class, and extras for booth.
Did the same with my Starwirbel pattern.
Still have 3 more patterns to do if I can.

Back-&-forths with tech editor on edits of class handouts and patterns formatted for printing and kits.
Delegated my distress to my husband over both of our home office printers breaking within weeks of each other! He's got that now.
?I know from last year that there will come a point when I won't be able to focus on pattern formatting or class handouts, so I've done as many as possible these past few weeks.
Woke up the next morning to emails from others who were now also 'all systems go' with their conference prep too. And now today is Thursday June 30: twelve days from lift off. I predict these blog updates will get posted more erratically but I'll keep trying. It forces me to find a peaceful moment to collect my thoughts.