This is the bottom band of a crochet poster. See the rest of it below. View full size.
Chainmaille is a downloadable DesigningVashti crochet pattern that was recently the focus of a CAL (Crochet Along) in northern Illinois. I thought you and the CAL participants would enjoy seeing a few variations I've swatched of this fascinating crochet texture.
The Structure of a Fascinating Crochet Fabric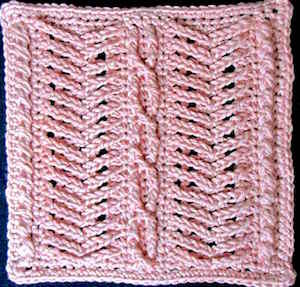 Long chains cross over a filet surface in a herringbone-like pattern. It's easier to see in striping colors, above and below.
It might also be easier to see in different types of yarn. The alpaca-tencel yarn adds to the scarf's unique look. I used a cotton-acrylic blend for the afghan block at right. For the V-o-t-e poster I used two strands held together of a cotton-rayon blend.
It helps me to think of it as two layers of lace: each gives the other added dimension and visual depth. This makes it lighter to wear. It also drapes better than the solid layered and aran-style crochet fabrics.
How did Chainmaille come about?
I first saw a confusing photo of the stitch pattern in a book. I couldn't make out what its texture was like, and the book offered no stitch diagram for it. (It turns out that a stitch diagram wouldn't have helped me, I just had to crochet it first.) I now understand why the photo confused me: a layered crochet texture is hard to capture in a two-dimensional image. If light shows through the layers, that also adds mystery.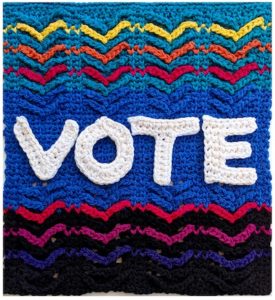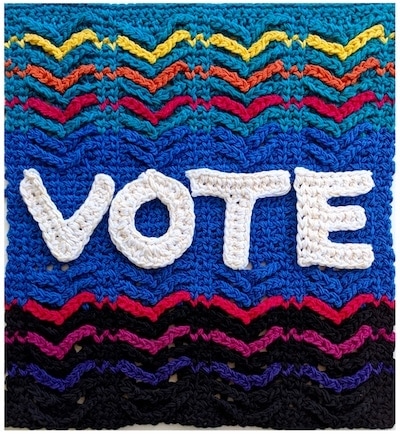 For me, the Chainmaille design is all about immersing oneself in a fascinating crochet fabric. There is no shaping or complicated assembly. Turning it into a cowl is simple enough: just seam it into a tube. Leave it unseamed for a neck warmer, or make it longer like I did to wear as a scarf. (Or gift to a man.)
A Chainmaille Crochet Along took place last month (July 2015) at Mosaic Yarn Studio in Mt. Prospect, Illinois. Have a look at this wrap-sized Chainmaille on display in the shop!
I met with a CAL participant, Susan Kenyon, at the Chain Link crochet conference in San Diego a few weeks ago. Susan and I seem to share the same kind of enjoyment of this fascinating crochet stitch pattern. It sounds like the CAL was fun.