Simply add a mobius twist to an infinity scarf to multiply the ways it drapes.
A crochet mobius cowl pattern adds an easy mobius twist to a crochet infinity scarf (a.k.a. long loop scarf). This instantly increases the stylish ways to wear it!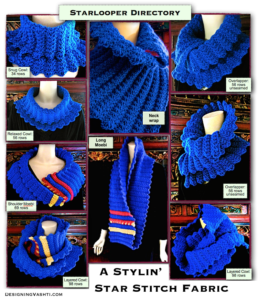 Have a look at this image I created for the downloadable new Starlooper Mobius Cowl crochet pattern. This montage of NINE images means I don't have to pick just ONE wearing style to display.
I love a good crochet mobius cowl pattern because it flatters the face and neck effortlessly, no matter how it settles on the shoulders. Plus, of course, they offer easy warmth. You might enjoy an early newsletter issue I wrote called "A Fever for Crocheting Cowls" LOL!
For Starlooper I used a special kind of crochet star stitch pattern. It's naturally a bit offset, reversible, and has accordion-like pleats. It's also fast, soft, and warm for fall. (One of many star stitches.)
I've been learning ways to create draping montages like this image for years. Want to see earlier ones? Here's Shakti Scarfythings. Check out Undaria!