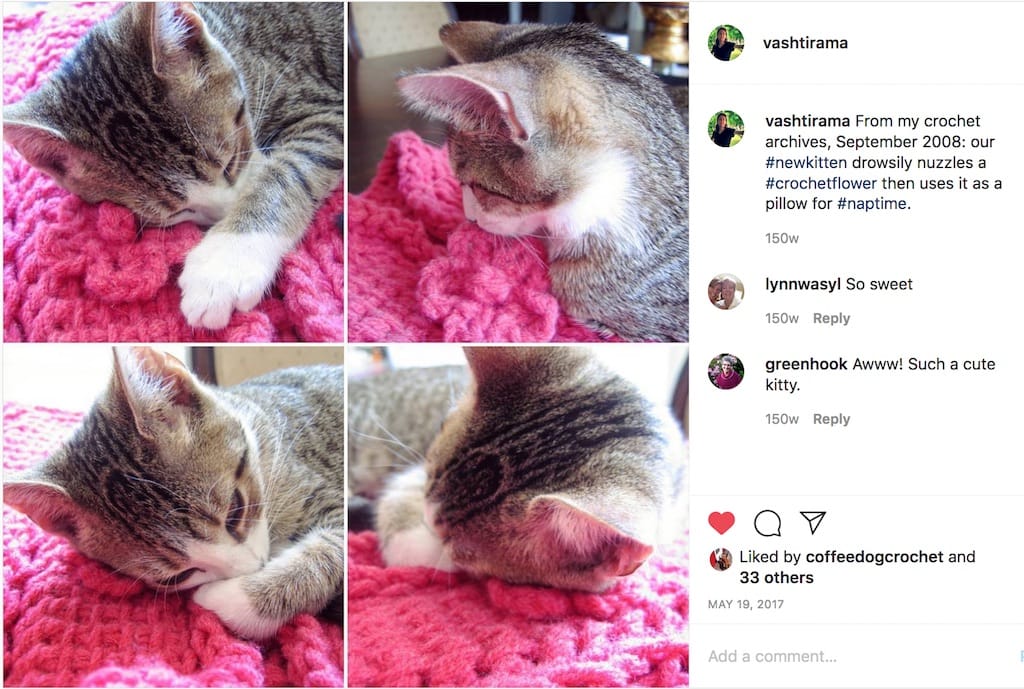 "Crochet Archives"?
Four 2008 photos from my crochet archives: the crochet is a cardigan in Tunisian crochet strips. An unpublished pattern; the yarn is unusual and discontinued (a felted spaghetti-like texture due to the lycra), but you can see it complete and modeled on its project page in Ravelry. The flower became the Fearless Leader of the Crochet Liberation Front's Flower of Power Ring!
In the latest newsletter (#84 Crochet Ruffles Old and New) I briefly mentioned upcoming posts (and videos! Yay soon!). Here's why: I've built up extensive crochet archives over thirteen years of professional crocheting. For example, my Flickr albums alone contain 1.5 million crochet photos.
The most important reason is that I'll be able to digitize and tag the paper-based bits I've filed. This is so important for easy retrieval. It's also protective: I live at sea level in a hurricane zone. In between hurricanes, it gives me easy posting ideas for this blog (& social media places) that could help or inspire other crocheters.
My crochet friend Julie M. inspired me to take stock of it all when she saw all the materials I'd brought to a class and asked, "How do you organize all your swatches and files?!" Some of it is digital and the rest is stored in my house. Is it working for me?
The ultimate test of my filing system is how quickly and easily I can retrieve everything I need for a new newsletter topic, a crochet class topic to develop, or a call for design proposals to answer. All of these have themes that cut across several kinds of materials and details. Tags work the best for this, and tagging is a digital thing. So the more my crochet archives are digitized and tagged, the better. (Safer from hurricanes too.)
Shared Crochet Archives: Places
Want to follow along with my crochet archive sharing? I've test-posted two other things so far: both to Twitter first, then to Pinterest and Facebook, although I may shift how/where/when these get posted. As always, updates on anything Designing Vashti will appear in the right-hand column of my newsletters, and here in this blog.
The two other test-posts are crochet tips with associated images. My goal is that they are worth liking, saving, and sharing by many crocheters. These illustrated tips will likely fall into "tracks", such as Tips for Beginners posted on "Newbie Tuesday" (catchy!–wish I'd invented it), Skill Refiners (tips for Intermediate or Experienced skill levels), and "Crochet Pro Tips" (more for aspiring crochet designers etc.).
I also have quotations from fashion designers, artists, writers who inspire me with their wisdom and approach to their work. I think of them as my mentors and might post some of these bits to my Tumblr account.
Today's post above is not a crochet tip, just pure charm. Maybe on Fridays?, or maybe as a Sunday/Monday boost. I love when other crocheters and knitters post pure eye candy: stitches close up in fibers and colors that make me want to pick up my hook. It's instantly replenishing, as if I've just emerged from a spa!