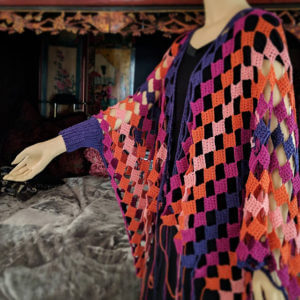 I put "Wrap Up" in quotes because this is a soft ending to a crochet along, not a hard one. In fact I remain inspired by some discoveries I made about it along the way. Plus, I can't resist a pun.
It's easy to imagine revisiting this CAL with a springtime project with CAL participants who also intend to start or resume their Mamruanas later.
Mamruana Evaluation Day
I'm going to do a behind-the-scenes evaluation of it as a crocheter of it (the process), wearer (the product), yarn provider (yarn brand choice), designer (art and craft of it), and pattern writer (is it patternable?).
Wearing the Ruana
Mine is in fall colors and I'll be wearing it to parties here in Florida through the winter. It's bigger and heavier on me than I expected, but not too much. It means I made a size Large to X-Large instead of a Small to Medium.
I will love dancing in it. It drapes beautifully and the colored diamonds flicker as it moves, vaguely like confetti.
As a Crochet Project
I really enjoyed crocheting it for three reasons:
The half double stitches (hdc) are crocheted into spaces, not stitch loops (helps the crocheting pace). See the stitch close up below.
The rhythm of color changes kept me looking forward to the next strip, with no color juggling or managing ends.
Constructing this in MAM ("mile-a-minute") strips gave me a satisfying feeling of completion and progress.
As a Design Idea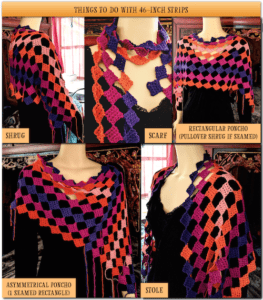 Several inspiring discoveries here for the designer in me!
I love that you're just crocheting little square patches in simple rows—so elementary—but they end up being diamonds on the bias. Changing the color of each strip adds a big visual effect to the drape. A ruana shape magnifies the effect because the sleeve sections also drape on the body at an angle.
Not only is a patch reversible, it's rotatable! This excites me because it means a series of patches could be linked up while going in different directions and still look coolly consistent. Freeform-bitmappy, chic, powerfully versatile design-wise. A gazillion options are possible for other wearable shapes and kinds of projects. It's like each patch is a fashionable "bit" for infinite design "pixels".
Put a Cuff on It
I'm unreasonably inspired by putting sleeve cuffs on a ruana. I like how it feels to wear it, how it updates the look, and how easy it is to do. It's a trendy effect I've wanted to explore since seeing it so much in Pinterest.
The Yarn Choice
Speaking as both a designer and a yarn provider, I'm very pleased with how the design and yarn go together. (I never really know if that will be the case.) YES I always want to have new crochet patterns for DesigningVashti Lotus yarn, and to show off new colors of it. For example, the new Orange Luxe color inspired the Mamruana.
Yarn-me will ask designer-me to tinker with the final pattern because it needn't use quite this much yarn—approx. 525 grams or 1350 yds.
As a designer I always need a good design reason for choosing one yarn over another. So, of course I fantasize about other yarns too. Besides the sport weight (CYC #2) Lotus, I think thinner yarns (lace wt./CYC #0 and fingering/CYC #1) would be wonderful; I swatched some for the CAL. I keep picturing a wool or alpaca blend as a generous cowl, for example. What about fine crochet thread for a scarf, panels of a skirt, etc. Beads?!
My takeaways from using Lotus for this Mamruana:
Its sheen combined with its drape is key to the whole effect! (That "I want to wear it to holiday parties and dance in it" effect.) Check out the stitch close up at right.
For Lotus designs I tend to vacillate between using a G-6 and G-7 (4mm, 4.5mm) crochet hook size. I used a G-7 for Mamruana. For larger sizes at least, I'm thinking it should be a G-6. Probably not an F-5 (3.75m) but I'll investigate.
The color range of Lotus is a significant element in its "just one more strip!" crocheting fun and visual impact. I'd need an inspiring color range in any yarn I use for this.
Mamruana as a Downloadable Pattern?
I've learned that you never know what it will be like to write up a design until you're in too deep, but I'm not worried about this one. No red flags. Nothing that would require a video to be understandable. Unlike, say, a Bosnian color-pooled moebius.
It's so Plus-sizable. Good Plus Size patterns are another thing I always want more of in my shop.
A nice thing about this CAL is that I wrote up the main pattern in sections and created visual aids as we went.