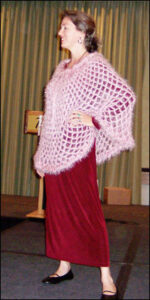 I wrote "I Didn't Know You Could Crochet With That!" for the May 2006 issue of Yarn Market News. I wonder how often comments like these are still overheard in yarn shops today. At the time I was teaching in a new boutique-type yarn shop. It featured novelty-textured European yarns and youthful, trendy fashion patterns.
This is a poncho I crocheted in 2004 with yarn I purchased at the shop. It's a silky and angora-like yarn called Gedifra Micro Chic.
Here's the first of six News from the CGOA columns I wrote. Text of my original, updated submission follows.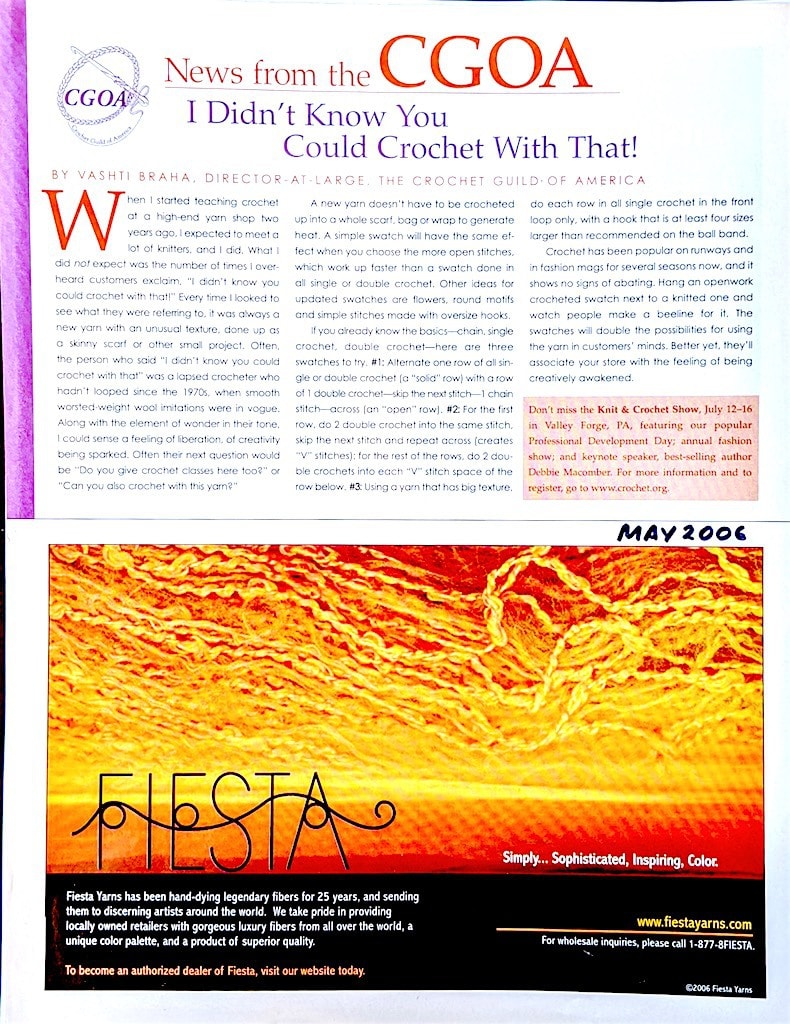 ---
"I Didn't Know You Could Crochet With That!"
When I started teaching crochet at a local high-end yarn shop two years ago, I expected to meet a lot of knitters, and I did. What I did not expect was how often I overheard a customer exclaim, "I didn't know you could crochet with that!" Invariably it was in reference to a new yarn with an unusual texture, done up as a trendy skinny scarf or other small project.
Knitted samples usually outnumber crocheted ones in yarn shops. It's often the case in big craft stores too. If instead someone said, "I've never seen this yarn crocheted before," I would be less surprised.
Surprise! The person who says "I didn't know you could crochet with that!" may be a lapsed crocheter—one who hasn't crocheted since the 1970's. Back then, smooth worsted-weight wool imitations were in vogue. I sense liberation in their tone along with the element of wonder. It's the sound of creativity sparking.
Then come the follow-up questions: "Do you give crochet classes here too?", "Did someone here crochet these?" or "And can I crochet with that yarn too?"
Benefits of Lacy Stitches
A new yarn doesn't have to be crocheted up into a whole scarf, bag, or wrap to generate sparks. A simple swatch can have the same effect when you try the more open crochet stitches.
The added benefit of open stitches is they work up faster than the usual all single crochet or all double crochet stitches. Open stitches can look fancy and still use the same stitches that all beginners learn.
If you already know how to make beginner crochet stitches (chain, single crochet, double crochet), here are three swatches to try, but there are many more possibilities.
Swatch #1: alternate one row of all single or double crochet (a "solid" row) with a row of 1 double crochet–skip the next stitch–1 chain stitch–across (an "open" row).
Swatch #2: for the first row, do 2 double crochet into the same stitch, skip the next stitch, and repeat across (creates "V" stitches); for the rest of the rows, do 2 double crochets into each "V" stitch space of the row below.
Swatch #3: Using a yarn that has big texture, do each row in all single crochet in the front loop only, with a hook that is at least four sizes larger than recommended on the ball band!
Update a Swatch or Two
Swatch #3 is an example of loosening up the stitching gauge dramatically to update a swatch. Another easy update: change the shape to flowers and round motifs.
Fashion runways and magazines have primed customers to spot crochet with a single glance for many seasons now. The trend showing no signs of abating!
Hang up an openwork crochet swatch next to a knitted one and watch people make a beeline to it. It will double the possibilities of the yarn in customers' minds, and they will associate your store with the liberating feeling of "I didn't know you could crochet with that!"
---
(Sidebar) CGOA's national conference takes place annually in July. Two enduringly popular events book-end it: Professional Development Day and our yearly fashion show banquet. For more information and to register, go to http://www.crochet.org/.
---
This article is the first of six "News From the CGOA" columns I wrote for Yarn Market News. Find links to all six in the Advice for Yarn Shops blog post.