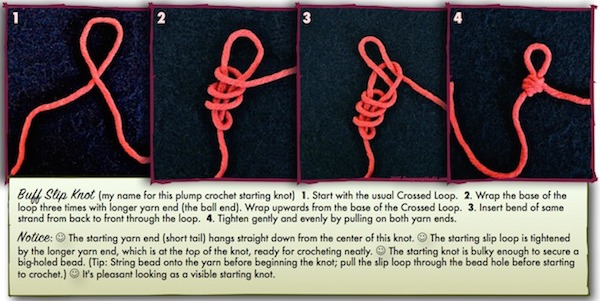 View the above image full size.
Here's the follow-up how-to for yesterday's "Pros & Cons of the Starting Slip Knot" post. I've created photo step outs for two promising alternatives to the basic starting slip knot. The first is what I call the Buff Slip Knot, shown above. The second is the Three-Loop Starting Slip Knot.
Special Slip Knots for Crochet
The Buff Slip Knot
Like our general-purpose slip knot, the Buff version offers a slip loop that you adjust by tugging on the longer yarn end. Unlike many other knots I tested, the longer yarn end is waiting for you up where the slip loop is rather than down at the bottom of the knot near the short yarn end. Stays tidy-looking this way.
Tying it is like tying a basic slip knot that has more wraps. A crochet beginner might wish to come back to this one later. Follow the four steps shown above. (View the high-resolution image).
I listed ten possible functions crocheters might need from the starting slip knot in yesterday's post. The Buff Slip Knot variation is an especially good candidate for advantages #6 and #10 on the list. Try it when you need or want a visible crochet slip knot that is nice looking. It's symmetrical in more than one way. It's also beefier if you wish to start with a large-holed bead accent.
The Three-Loop Slip Knot
This one may seem odd. Why would anyone want a crochet slip knot with three starting loops? This one is a great way to start right off crocheting with a finished, usable button loop, hanging loop, or other handy use for a secure loop. Think jewelry, cords and straps, and how about potholders?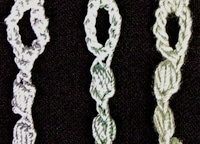 Normally we'd start with a basic slip knot, crochet some chain stitches, then slip stitch them together to form a loop of chains. These work great for most things. Occasionally, chain stitches are too thick or textured for what I need. This tends to happen for me with jewelry projects. I'd like a slim loop to fit under a button clasp. The chained loops of these Puffpearl necklaces look unnecessarily chunky to me.
Another example is when a crocheted charm or pendant is designed to dangle. I'm thinking the Three-Loop one would have been a sleeker choice for the tops of the Lovebud Vines.
Three-Loop: How to Do It
The Three-Loop Slip Knot variation is similar to making a basic slip knot except: take the first 16″ or so* of your starting yarn end and fold it in half first. Use the fold to make the slip knot. Don't pull the folded end all the way through.

*Use a longer length than 16″ if you'll be crocheting both ends together throughout, like I did in image #6 below. It'll depend completely on each project. (It's a great way to avoid weaving in the end.)
Adjust and tweak the final desired size of the loops first before tightening completely. Then, pull the knot tight enough to give it a streamlined look.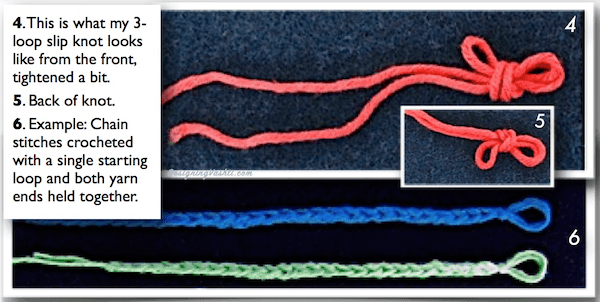 Here again is a feature I appreciate: the long yarn end is waiting close to the loop that goes on the crochet hook. This means you won't have to see a stringy strand of yarn traveling over the knot, which would look messy, asymmetrical, and unnecessary.