"Hooked On Hooks" is a 500-word article I wrote with yarn shop owners in mind for Yarn Market News magazine. Yarn shop owners should understand the importance of the Hook Collectors Group to CGOA members and conferences. Imagine having a yarn shop and not knowing about an affliction called H.A.S.!
This was the May 2008 issue. I wrote the News from the CGOA column every January and May for three years, starting with the May 2006 issue. Text of my original submission follows; I've updated links and added new ones.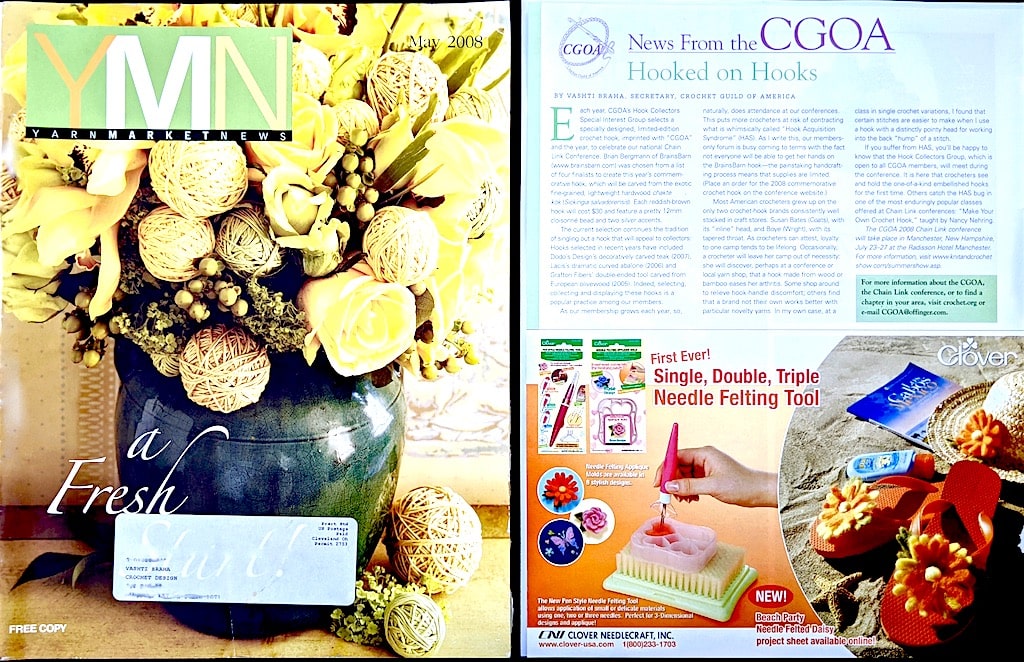 "Hooked on Hooks"
Every year the Hook Collectors Group, a CGOA special interest group, selects a limited-edition crochet hook designed to commemorate our national Chain Link conference. Each commemorative hook is imprinted with "CGOA" and the year. Selecting, collecting, and displaying these hooks is a popular tradition among our members.
The group selected Brian Bergmann of Brainsbarn from a list of four finalists to create the commemorative hook for 2008. Brian will carve it from an exotic reddish-brown hardwood, Chakte Kok (Sickingia salvadorensis). This wood is lightweight and fine-grained. A hook made from it should be a pleasure to crochet with. Brian's design will also feature a 12mm cloisonne bead and two silver accents, and will cost $30.
Hooks selected in recent years: a decoratively carved teak one from Dodo's Design (2007); a dramatic curved abalone hook from Lacis (2006); and Grafton Fibers' double-ended hook carved from European olive wood (2005).
H.A.S.: Hook Acquisition Syndrome
Our membership grows yearly and so does attendance at our conferences. This naturally puts more crocheters at risk of contracting the fondly named "Hook Acquisition Syndrome" (HAS). As I write this, our members-only forum is attempting to come to terms with the fact that there is only a very limited supply of this year's commemorative crochet hook, which is (as in many other years) painstakingly handmade.
Most American crocheters grew up on the only two crochet hook brands consistently well-stocked in craft stores: Susan Bates (Coats) or Boye (Wright). The two brands differ significantly enough to have their own loyal following and, at least in part, they define how crochet hooks are categorized. For example, the Bates "head" (hooked end) is constructed as if an angled slit has been cut into a rod of uniform width; this is called an "inline" head. The Boye head is more bulbous with a curved cut-out for the hook.
Hooked on Hook Styles
Crocheters can contract HAS and yet never compromise their Bates or Boye loyalty; after all, crochet hooks are always disappearing behind chair cushions or being left in an unfinished project. Handy tools that they are, crochet hooks are often borrowed by family members for many non-crochet purposes. In addition, hook sizes and features can vary tantalizingly over time; witness the bamboo-handled versions recently added to the Bates line.
Sometimes a crocheter branches out from their Bates or Boye camp out of necessity. S/he discovers, perhaps at a conference or local yarn shop, that a hook made of wood or bamboo rather than metal eases arthritis. Some crocheters complain of hook handle discomfort because their hands are larger, fleshier, or more sensitive. Other crocheters take a liking to Japanese or British crochet hook brands that they find in thrift shops for pennies. During the novelty yarn craze, crocheters learned in online forums that sometimes changing the hook brand helps with crocheting the furry yarns. In my own case, I took a class in single crochet variations and found that certain stitches are easier to make if the hook has a distinctly pointy head for working into the back "hump" of a stitch.
Hook Collectors Group
Fortunately for crocheters afflicted with HAS, the Hook Collectors Group, which is open to all CGOA members, meets during the conference. Some crocheters see and hold the one-of-a-kind embellished hooks for the first time. I have seen the look of wonder on their faces. Others catch the HAS bug in one of the most enduringly popular classes offered at Chain Link conferences: "Make Your Own Crochet Hook" taught by Nancy Nehring.
As every crocheter knows, one can never have too many crochet hooks. Place orders for commemorative CGOA crochet hooks at the conference website.
---
More Information on the Hook Collector's Group
Two long time leading members of the group have blogged about it: Nancy Nehring and Dee Stanziano. Gwen Blakley Kinsler (founder of CGOA) blogged about the Hook Collector's Group in 2014.
---
This article is the fifth of six "News From the CGOA" columns I wrote for Yarn Market News. Find links to all six in the Advice for Yarn Shops blog post.