How to videos are a great way to learn hand chaining. I viewed several this past week. My favorites are listed below.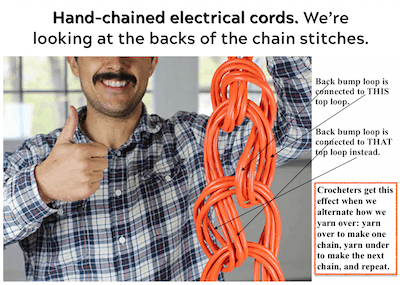 After watching so many hand chaining videos, I found that only some show how to do it the crochet way. Other videos show a knitting style, or as a form of knot tying.  I've chosen a few video links for each approach so that you can try them and see which you like best.
Hand Chaining the Crochet Way
Hand chaining the crochet way means you're using your fingers or whole hand the same way that you'd use a crochet hook. In crochet, if we put a loop on the crochet hook by winding the yarn around it, it's called a yarn over. It's also possible to just "grab" the yarn with the hook and pull it through with no actual yarn over. This has sometimes been called a yarn under. The yarn over is the standard, correct one.
Watch for when a hand chaining video shows the yarn over, or the yarn under, or mixes them. It's tempting to use the yarn under when hand chaining because you can just reach through a loop, pinch the yarn, and pull it through. The simple pull-through of the yarn under makes for very quick hand chaining! However, if you plan to do most of your crocheting with a crochet hook, the yarn over is a very good habit to establish. 
Three videos that show yarn overs:
These next three videos show yarn unders:
By the way, in most of these the adjustable slip knot is made instead of the locking one. Donna Wolfe uses the locking slip knot. Now try some of the other videos below for contrast. Whichever one you enjoy the most is the best one for you!
Hand Chaining the Knitting Way
Hand chaining with a knitting approach means that a finger or hand is held like a knitting needle while a loop is worked off of it. A possible advantage is that one tends to work at a smaller scale, keeping the loops closer to the fingers. This can help one to control the size of each chain stitch.
Hand Chaining the Knot Tying Way
The most noticeable thing to me about a knot tying approach is the terminology. A rope is bent, which is called a "bight," and then pushed through a loop. Terms like "sinnet" or "knot" are used; never "stitch."
There are a few other differences too. The purpose of hand chaining in these videos seems to be of practical interest mainly to men who need to make long lengths of heavy rope more manageable for storage, cleaning, or for a "quick deploy" survival bracelet. It's also called a "zipper sinnet" and "chain shortening" because it quickly unravels when the rope is needed. It ranks as one of the Four Knots You Need to Know.
Here are a few knot tying videos on hand chaining:
Which videos do you enjoy? Which one can you do the most quickly? Which one produces the nicest-looking chain stitches for you?
Updated November 2018. It's part of an experimental blog post series: Vashti's How to Crochet Book.