I conducted a quick quarantine crochet survey about two weeks ago when I sent out a test issue of my Crochet Inspirations Newsletter to 8,185 subscribers. It tested a new delivery service for the newsletter, as mentioned in another blogpost. Ten percent (802) responded. he crochet survey results offer a fascinating snapshot of this time in crocheters' lives.
I'll show you three screenshots from the crochet survey report. Here is what little I know about my subscribers: 90% use Gmail, and Safari is the most used browser at 3.13%. Almost 40% of subscribers (39.23% or 3,170 subscribers) opened the newsletter in their email inbox. Of this subset, 2,318 are in the USA, 100 in Canada, 74 in the UK, 58 in Australia, 35 in Ireland, 16 in the Netherlands, 14 in New Zealand, 7 in Italy and in Germany, and 5 in Denmark. Cool!
The survey was at the very end; perhaps some readers didn't see it. In this first screenshot, the gray numbers under the first question, "How has quarantined life been for you lately?" may show that some people had trouble getting the survey to work. Although 856 wanted to start it, 46 didn't or couldn't answer the question. I did hear from a few subscribers that it didn't work. For example, a few saw only a blank screen.
How is Quarantined Life Lately?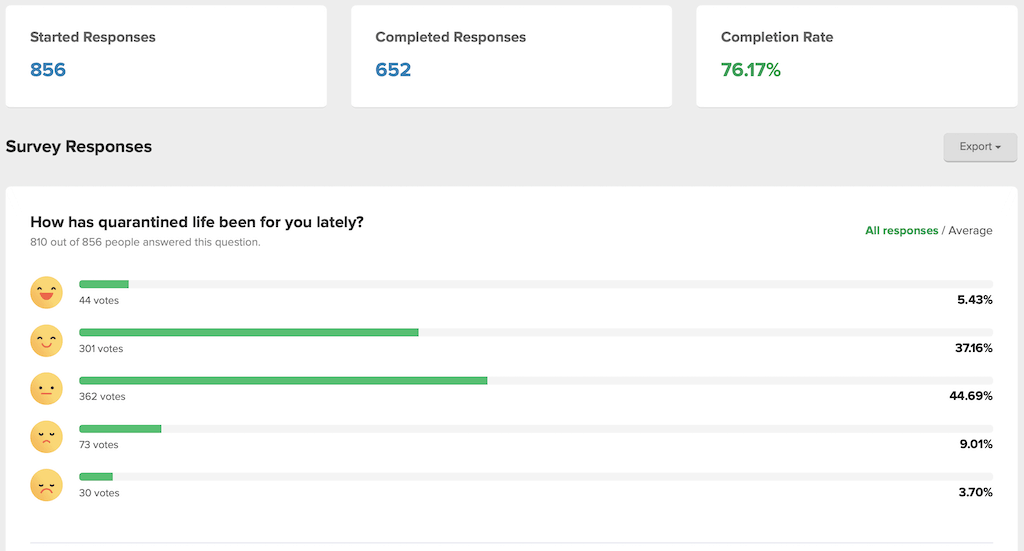 It's nice to see, at least on the surface, that the majority of respondents feel overall neutral to upbeat about it all. That's a total of 707 out of 810. Perhaps for some folks a neutral face is expressing extremes, which is not a comfortable place to be. I got this impression from some of the free response comments at the end.
Crochet Inspiration Level From 1 to 10
The next screen of the crochet survey results is about the question, "What is your crochet inspiration level?" Choosing 1 means it is at its lowest ebb, and 10 is inspiration to the max! I didn't know what to expect. On the one hand, a crocheter could make a lot of progress during a quarantine; on the other, it also means a lot of worry, and disruption of the simplest routines.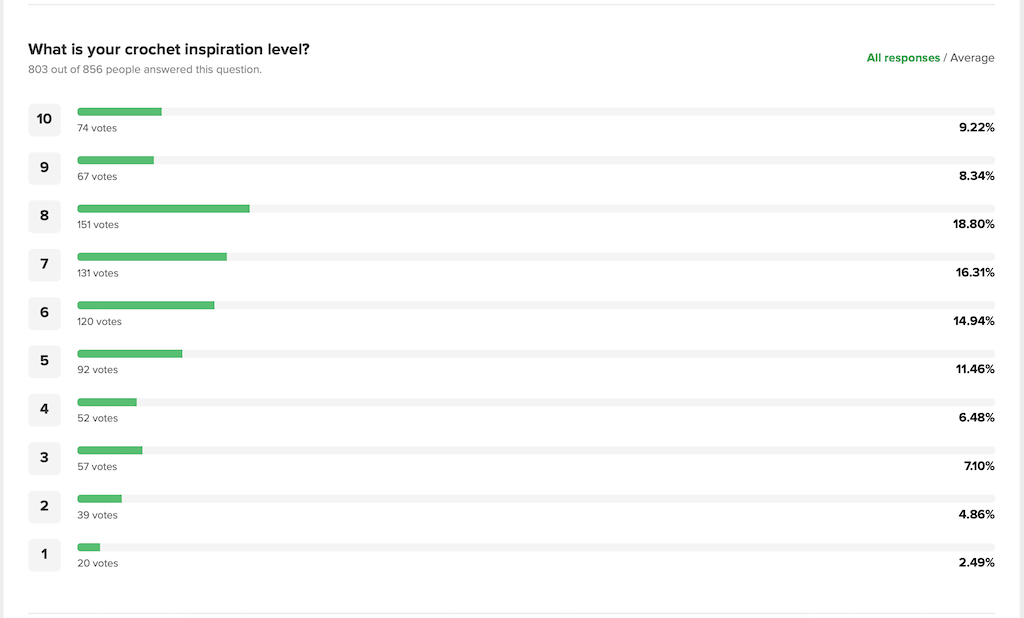 Overall, these crocheters' inspiration levels are pretty buoyant. Levels 6, 7, and 8 received the most votes. Together these total 402 out of 803 responses. Crochet really is a positive skill and outlet to have during times of adversity.
Quality of That Inspiration?
I wanted a fuller picture than just a simple numerical amount. My own crochet inspiration has been distorted, not just a matter of "am I inspired or not". I've felt like a different crocheter and I struggled to get to know her better, especially during the first three weeks of the quarantine.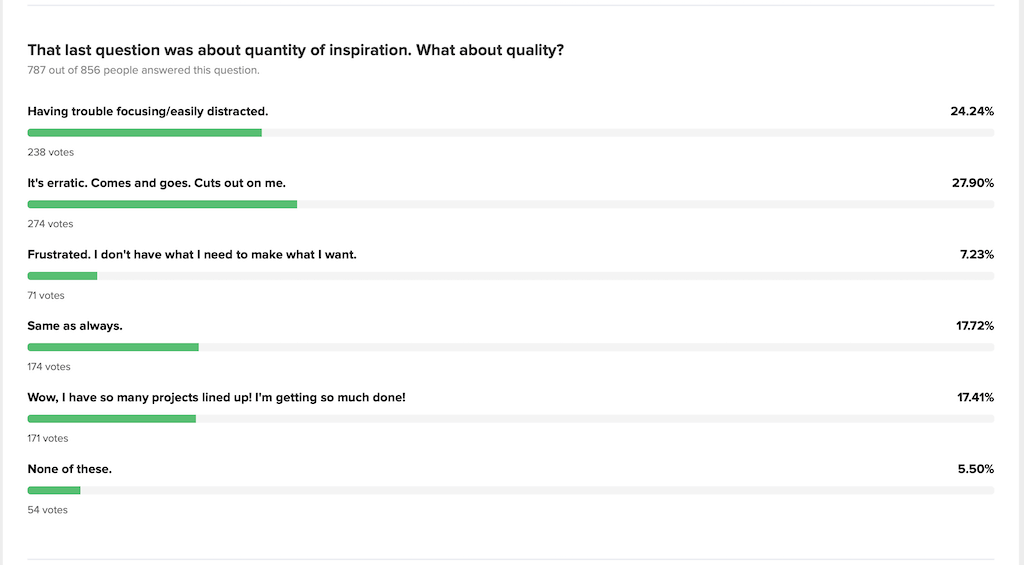 The first two descriptions account for over half of all votes. (Respondents could select all that applied.) The first two, "Having trouble focusing/easily distracted", and "It's erratic. Comes and goes. Cuts out on me" are based on my own experience. The third one, "Frustrated. I don't have what I need to make what I want" is one that I'd heard others say.
Open Field Responses
I ended with an invitation to describe what you've been crocheting lately, or to write anything else in a text box. I've been going through 652 of these crochet survey results. It has been a very moving experience. Many subscribers thanked me for asking how it has been for them, or for doing the newsletter. I also appreciate all the well wishes!
I heard from nurses and others on the front lines of the pandemic. They don't have much time or energy for crochet, understandably. Thank you for all that you're doing and sacrificing. Several subscribers are making face masks. They're sewing as many as they can instead of crocheting anything, or crocheting the masks, or struggling to.
Something I didn't expect is the burden of sudden full-time homeschooling that several respondents mentioned. The impression I got from some is that it saps the energy to be able to crochet or get inspired about it. Those who are learning new work processes from home also sound quite stressed. My heart goes out to you.
Specific Crochet Projects
The sheer creative range of project types and materials is an unexpected wonderland for me to read about! Some are creating by knitting or sewing. Rough counts of a sampling of projects:
80 are making face masks, ear savers, and other things for essential workers; about as many are making blankets and afghans. One person said, "Blankets as they sooth my soul."
11 are making amigurumi. One person reported making 75 toys! About as many are doing CALs, Christmas crocheting, and Tunisian crochet. One person used the quarantine to start Tunisian crochet for the first time.
100 are making shawls. About 75 are crocheting sweaters, cardigans, and shrugs; 60 or so have been making hats and scarves.
Finally, here's a partial list of specific patterns named:
Teatime Shawl, Sophie's Universe, Sweetheart Soiree Doily, Winter's Song, Slip Slope Scarf, Wind Chimes scarf, Not Your Granny's Jammies, GroovyGhan, Seafarer Scarf, Leaves Shawl, Magnolia Shardi, Boxie Shawl, Meandering Cat Paws, Persian Tiles, Jo's Market Bags, Rainbow Sprinkles Crescent Shawl, Q-Star Coverlet, Rozeta, Dandelion Mandala.
Add your own responses to these survey questions in the comments. I will read them all.