I wrote "Crochet Cornucopia" with yarn shop owners in mind for Yarn Market News magazine. This was the January 2009 issue; the year began with accelerated growth of CGOA events.
Beginning with the May 2006 issue I wrote the News from the CGOA column every January and May for three years. Text of my original, updated submission follows.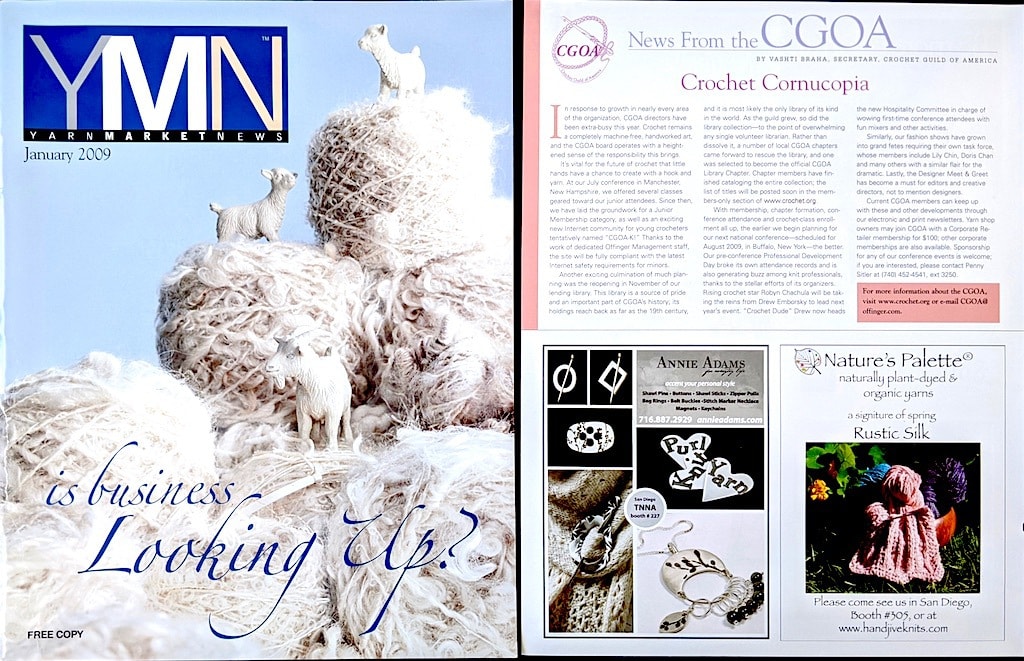 ---
"Crochet Cornucopia"
In response to growth in nearly every area of the organization, CGOA directors have been busy this year. Crochet remains a 100% machine-free hand worked art to this day. The CGOA board operates with a heightened sense of the responsibility this brings.
Members recognize that it's vital for the future of crochet that little hands have a chance to create with a crochet hook and yarn. At our July conference in Manchester NH we offered several classes geared toward our junior attendees.
CGOA Events for Junior Members
The groundwork for a Junior Membership category is complete. An exciting new online community for junior crocheters will open its virtual doors soon. We'll start simply and grow the community in response to feedback from members. It will be a year-round internet-based meeting place for our junior members, tentatively referred to as "CGOA-K!". Thanks to the work of dedicated management staff, the site will be fully compliant with the latest internet safety requirements for minors.
Note: This project ran into legal complications and has been retired. — 2020 Vashti
CGOA Lending Library
Another exciting culmination of over a year of planning is that our lending library will re-open in November. This library is a source of pride and an important part of CGOA's history; its holdings reach back as far as the 19th century. It is most likely the only library of its kind in the world.
As the guild grew, so did the library collection to the point of overwhelming any single volunteer librarian. Rather than dissolve it, a number of local CGOA Chapters came forth to rescue the library. Chapter members have finished cataloguing the entire collection. They will post the list of library titles soon in the member's only section of our website at www.crochet.org.
Note: This project overwhelmed some of the local chapters and has been retired. However, in 2014 crocheter Gilbert Witte donated the Tennyson Library of Crochet (about 7,000 items) to the Rare Book & Manuscript Library at the University of Illinois at Urbana-Champaign. — 2020 Vashti
New Slate of Directors
The new slate of directors meets just after the New Year. Members voted near the end of 2008 on the proposed 2009 slate of directors, and on a by-laws amendment. Directors serve a two-year term with the opportunity to serve a second term. Three current board members are up for reelection and two new members will fill vacated spots on the board. In 2009, Lorraine Lucas will complete her first term. Rita Weiss and I will complete our second terms.
2009: Year of Growth
National Crochet Month (March) is always motivational for CGOA members. It occurs soon after the holidays, so planning for CGOA events with our PR Committee and Chapter Coordinator has already begun. The theme for 2009 will be local charities and celebrations.
CGOA Conference Events
Our next national conference occurs in August 2009 in Buffalo, NY. With membership, chapter formation, conference attendance, and crochet class enrollment up, the earlier we begin planning for it, the better. The pre-conference Professional Development Day (PDD) broke its own attendance records in 2008. It's also generating buzz among knit professionals, thanks to the stellar efforts of its organizers.
Rising star Robyn Chachula will be taking the reins from Drew Emborsky to lead next year's PDD. The Crochet Dude™ Drew now heads a new Hospitality Committee in charge of wowing first-time conference attendees with fun mixers and other activities.
Similarly, our Fashion Show has grown into a grand fête requiring a task force of its own. Active volunteers include Lily Chin, Doris Chan, Drew Emborsky, and many others who have a flair for the dramatic. Lastly, the Designer Meet & Greet, a fairly new event, will again take place on the market floor. It has quickly become the must-attend for editors and creative directors, not to mention designers.
Anyone can keep up with these and other CGOA events not listed here by reading the electronic and print newsletters that go out to all current CGOA members. Yarn shop owners may join CGOA with a Corporate Retailer membership for $100. Other corporate memberships are also available. Sponsorship inquiries for any of our conference events are welcome.
Note: for sponsorship inquiries in 2020, please contact CGOA's Executive Director Deb Ryan of Celtic Associations. Call 847.647.7500 or email [email protected].
---
This article is the sixth of six "News From the CGOA" columns I wrote for Yarn Market News. Find links to all six in the Advice for Yarn Shops blog post.