Hello from the Other Side
…of the Great Website Overhaul of 2017. ? RIP sweet old DesigningVashti site from 2010. ?
For this first blog post at my new 'n improved DesigningVashti.com, I'll firm up loose loops by bringing you up to date.
Crochet Inspirations Newsletter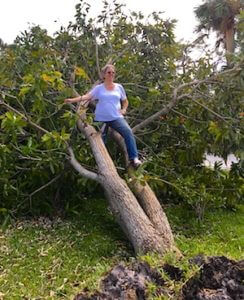 Top of mind is the next issue (#88). Now that this website is up and working smoothly, I can focus on it again. I've mulled topic #88 since the week before Hurricane Irma grazed us. This site now has a respectable About the Newsletter page. (On my list is to put a sign-up form on it.)
You know, people have told me over the years that I should charge a subscription fee for the newsletter. I don't know if they're right, but I can tell you that if I had been, it would have weighed on me heavily while trying to get back up to speed after the storm!
We evacuated for Irma and that's mighty rare. It was so nerve-wracking that the only crocheting I could muster was a swatch for the newsletter. Fortunately I didn't lose it amidst the upheaval because that one swatch gave me a lot to think about.
omg, the Mamruana CAL-DAL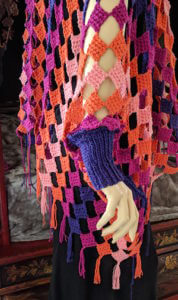 I launched the Mamruana Crochet Along/Design-Along Aug. 24 in my Ravelry forum. The "design-
along" part is a new kind of medium for me. The CAL-DAL was humming along by the time Irma was aiming for our area.
Fortunately, the DAL part gives a CAL a more open-ended timeline and direction, because a series of hurricanes and fires put a damper on the momentum. Any work I could do had to go to the website. I couldn't even blog about the CAL; the blog part of the site was down the longest.
After this blog post I can add a fringe update to the forum thread!
Crochet Videos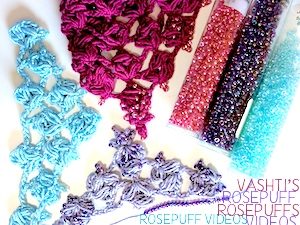 I had just begun creating videos before Irma. I have some raw clips waiting, in fact. YouTube even emailed me and said, "Hey, do you need encouragement? You're doing great."
We tore down my home filming "studio" in preparation to evacuate for the hurricane. I can set it up again now that this new website is live.
Ideally, the next newsletter issue will have a short video clip or gif.
Vashti's Crochet Archives
In May I announced that I was going to start putting my crochet stuff online. Weird little obstacles cropped up at various sites as I did so. It turns out the updated features of this website are perfect! I did not foresee this! Also probably ideal for others who would be interested in my crochet archives because it will be all in one place, tightly interlinked.
New Crochet Patterns
It's true, there have never been more new patterns in various stages of completion. Wonderful tech editors and diagram makers are still standing by to help me too (I hope). I'm anxious to get back to pattern writing as well as to newsletter #88. I'm also working on a new Tunisian design.