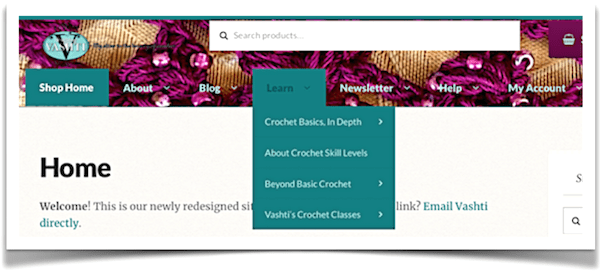 All the Crochet Tutorials in One Place!
I set up a permanent home for my crochet tutorials and tips. Over the years I've posted some crochet how-to stuff on one blog and some on another. Still more are tucked away in newsletters, pattern PDFs, and class handouts. Eventually I'll get all ten years of them under the "Learn" tab, which you can find at the top of every page of this new website. Huzzah! It feels so good to do this.
Crochet Tutorial Categories So Far
As you can see in the photo above, the Learn menu now has these two major categories:
Crochet Basics in Depth–For newer crocheters and anyone who likes a more thorough treatment of all things crochet. (My goal is always to write what I haven't already read elsewhere.)

From "Hook-Led Gauge".

Beyond Crochet Basics–If it's something that might be considered an Intermediate skill or beyond, it goes here. Newer crocheters are welcome to use this section too. I try to connect each advanced or specialized topic directly to a basic crochet skill so that adventurous beginners can use some of it too.
Each category has a few how-to topics in them so far. Some will sound familiar to you if you've used my patterns or read my newsletters, such as "Hook-Led Gauge" in the Crochet Basics section and "When to Crochet BETWEEN Top Loops" in the Beyond Basics section.
Newly Updated
I'm rewriting each one—a little or a lot! Even if I've already posted a topic somewhere else. (I enjoy writing but it's slow-going if I have to find the original images and optimize them.)
? "Crocheting the Love Knot Mesh" is so extensively revised that it's now all new material.
Please let me know if you use one of my crochet tutorials here and the images are not clear enough. I'm still adjusting the image optimizing settings of this new site to get them truly…optimal.
Three More Tutorial Categories
I'll be bringing back the Tunisian and Slip Stitch crochet sections that my old site had, but they had not been updatable for seven years. By the time I'm done revising them and adding lots of juicy tutorials, they might have nothing in common with the old ones! These will also be housed in the Learn menu:
The New Tunisian Crochet
Fun With Slip Stitch Crochet
Crocheting Jewelry
All three* are technique based unlike the first two that are purely skill based. The standard crochet skill level model tends to default to regular crochet, so these Tunisian and Slip Stitch categories should complement the skill categories neatly enough.
*Even though the jewelry crochet group is project based, I think of its tutorials as having a technique focus because it's a specialized application of mostly regular crochet. (I don't think my old site even had a page for crochet jewelry.)