Home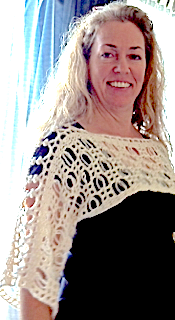 Welcome to DesigningVashti.com. I'm Vashti Braha (wearing Fishlips Shrug at a yarn conference). Need help? Find a broken link? Email me directly. You're at the home base for my in-depth crochet classes, intrepid newsletter, long-running blog, and crochet shop of over 100 items. (The shop URL used to be www.shop.designingvashti.com/. The permanent URL for it is now https://www.designingvashti.com/.)
In the shop you'll find: Doris Chan's exclusive DJC pattern line, my own indie patterns, the complete line of Jelly Yarn®, and crochet hooks of several sizes, brands, lengths, and combinations. We always order direct from the manufacturer, person to person. It's always nice to connect, plus it also safeguards against counterfeits and inflated costs. As always, shipping is free in the USA. Shopping is certified secure.
COVID-19 measures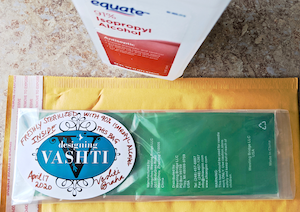 For each shipment we freshly sanitize the original plastic wrapper of each item with 91% isopropyl alcohol. Then it goes immediately into a new clear plastic bag.
A signed sticker on the outside of the bag includes the date this was done (example shown at left).
---
Vashti's Online Crochet Classes for 2022
I've been creating new classes and teaching them online for the Crochet Guild of America. As of 2022, CGOA's virtual classes are scheduled throughout the year. See my newest classes scheduled through May 2022 so far.