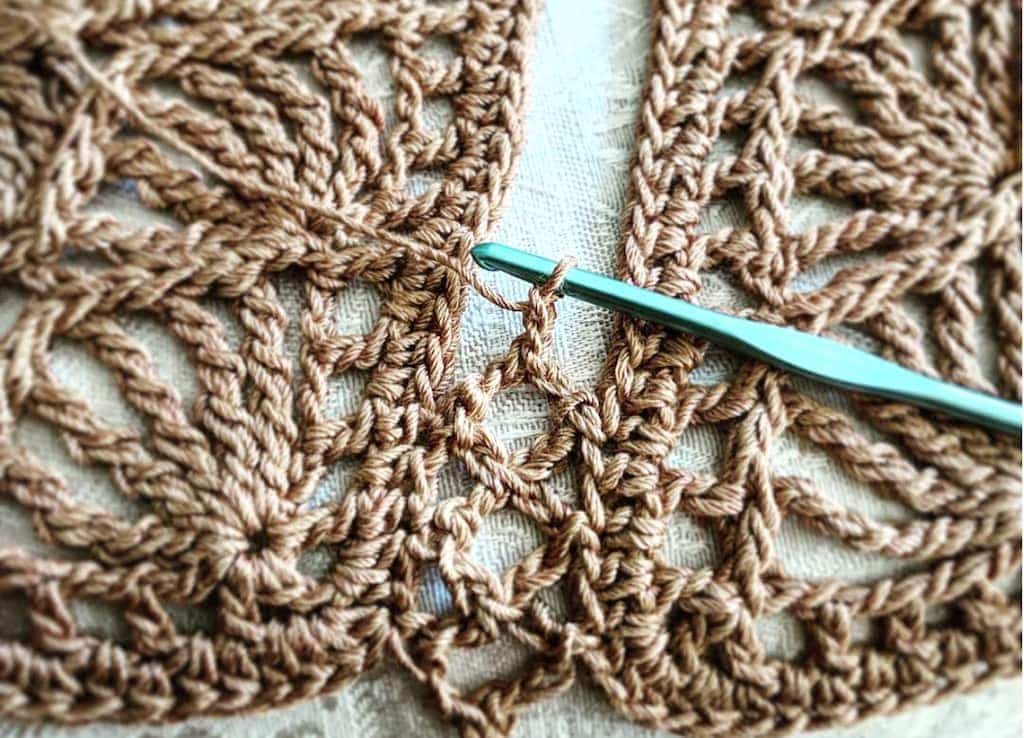 I seamed with stitch equivalents in this 2019 image. It was not in the original newsletter issue #2, A Super Crochet Maneuver. It's explained at the end.
First, the original newsletter issue, below. It went out to a little over 300 subscribers in September 2010. That's nine years ago! I've removed the original two-column formatting, colored backgrounds, and especially the outdated links. I've refrained from revising the original text, except for light edits.
This stitch equivalents topic looks different to me now. See my current (September 2019) thoughts at the end.
Welcome to issue #2.
Subscriptions have doubled since the first issue was sent out 14 days ago, so welcome to all of you new subscribers!
The "super crochet maneuver" I've been thinking about lately is not only a big problem-solver for designers, it can single-handedly put the "free" in freeform! It's not a big secret, but I get the feeling it's not common knowledge either.
Crochet stitch equivalents hinge on the basic principle that the chain stitch is crochet's unit of measure. Measuring the height of a tall stitch with chains gives you the keys to the kingdom. For example, a half double crochet (UK/AUS: half treble) is the same height as two chains, while the height of a double crochet (UK/AUS: treble) is—theoretically—three chains.
Perhaps this much is nothing new. After all, any crocheter working in rows needs to know how many to chain for their turning chain, right? For example, to begin a row of those really tall triple trebles (abbreviated trtr, or in UK/AUS, quadtr), one would chain six, because a trtr is six chains tall.
Equivalent Stitches
What if one trtr and six chains are 100% interchangeable? Then you get to decide where you want to end up after making a stitch. You choose which stitch gets you there.
My Stitch Equivalents "Aha!" Moment
This is the mesh poncho mentioned below that gave me a crocheter's "Aha!" moment.
I'm wearing it at the 2004 CGOA Chain Link Conference. It was my first experience of being in a "fashion show", and maybe you can't tell but I was incredibly nervous up there.
A local longtime crocheter wanted to recreate the lattice-as-you-go edge of my Islander wrap and couldn't get it to work. She had an "Aha!" look when I told her that first you decide where you need your hook to end up, then you choose whatever gets you there—it might be a tall stitch, the equivalent number of chains, or a combo.
Continue reading

Crochet Stitch Equivalents (Issue 2)